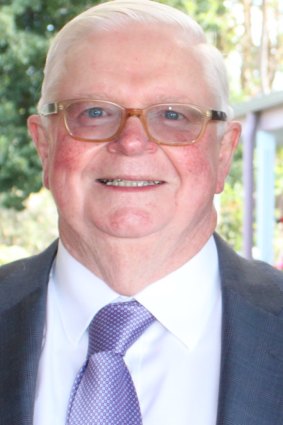 While in OPS, John initiated planning to replace Willsmere, an outdated psychiatric hospital in Kew. This project provided the template for the redevelopment of Victoria's entire public mental health system. The new approach prioritised those with the most disabling conditions and expanded the range of community based mental healthcare. This included a 24/7 acute crisis response from community based teams, treatment at new or expanded community based mental health centres, and inpatient treatment at new psychiatric units based in public hospitals. This radical new approach was eventually implemented across Victoria in the 1990s. Since then, it has benefitted many people with a serious mental illness, who previously might have languished in outdated institutions.
In December 1987, John married fellow social worker Alexandra (Sandy) Forbes in the Australian native garden in Royal Park. Sandy: "John and I had taught a course together, combining his research and comprehensive knowledge and my practice knowledge. A division of labour that continued throughout the following 35 years." And: "John made it very clear that Ben would be a part of our family. And then we added Sam …" Their son Sam Forbes was born in 1989.
In 1988, John became director of policy and planning at the Victorian Department of Health. From there he moved in 1990 to the Department of Premier and Cabinet as director of intergovernmental relationships.
Following a change in government in 1992, premier Jeff Kennett appointed John head of the cabinet office and deputy secretary of the Premier's Office. Ben: "In a rare feat of bureaucratic agility, dad managed to be one of the few who survived the somewhat brutal transition between Labor premier Joan Kirner and the rampaging new Liberal premiership of Jeff Kennett." Always brilliant at spotting new trends, John foresaw the potential of the Internet to transform government and the economy. He persuaded Mr Kennett to create the agency Multimedia Victoria in 1995, with John as executive director and Treasurer Alan Stockdale as "the world's first multimedia minister".
As head of MMV in 1995-97, John promoted Victoria as a centre for innovation in internet-based multimedia products. Simultaneously, he was active in guiding major public cultural institutions, as a board member of the State Library Board of Victoria (1995-2001), the Australian Broadcasting Authority (1997-2001), and as chairman of the New Media Arts Fund of the Australia Council (1997-2001).
In late 1997, John made another lateral career move, this time into the private sector. John and Sandy set up their private consulting company Acuity Consulting as co-directors.
John became chair of Joint Technology Parks (JTP) with co-directors Peter Fritz AM and (later) Robert Crompton. In 2000, JTP won a $12 million four-year grant from the federal Building IT Strengths program to set up a major incubator for start-ups in Collins Street, Information City Victoria, later changed to Information City Australia as it got bigger.
In 2001, John froze his private sector activities when he became founding CEO of the National Office for the Information Economy (NOIE). As NOIE was based in Canberra, John chose to commute from Melbourne for three years. This was not good for his health. From 2004, he decided to quit full-time executive positions and concentrate on part-time directorships – and to spend more time at home with Sandy and Sam.
By 2004, Ben was in his early 30s, married and well into a successful career as a senior public servant. In contrast, Sam was just 15, and John wanted to make up for his work-related absences. After all, with John's encouragement, Ben had become a talented violinist while still a teenager.
Sam: "When I was young it was important to him that I played music and I did, for a time. We had the beautiful experience of playing together. But I was determined to do other things and insisted on sport. I shook the music lessons, but I didn't shake dad's love or commitment. There wouldn't be an Australian male less into sport than dad, but there he was waking me up at a quarter to five in the morning to go to swimming training."
John threw himself into the swimming world and to Sam's bemusement went from helping out timekeeping to becoming president of Swimming Victoria. He was eventually appointed to the committee that organised the world swimming championships in Melbourne in 2007. In 2008, John and Sandy also bought a holiday house at Wye River so they could spend more leisure time there with family and friends.
Three important directorships for John were with the Australian Film TV and Radio School (from 2003), the Royal Children's Hospital Board (2004-14) and Forensicare (2015-18).
The RCH board: "John is fondly remembered as a man of brilliant intellect, broad interests and diverse talent. He had the unique ability to identify the essence of the most complex issues and recommend a number of options to resolve them. His knowledge and experience in the machinations of public policy and government were invaluable and his integrity was beyond compare.
"He was also a master storyteller and almost every board meeting featured an entertaining tale of relevance to the agenda of the day, told with enthusiasm, grace and humour, and always with a wry grin."
In John's last years, his life was slowed down and eventually immobilised by the effects of severe health issues. He maintained his deep love of classical music via quality streaming channels, and he loved to remain in contact with his extended family and friends.
During John's multifaceted life, he was valued as a brilliant and inspiring man; and as a mentor by scores of people, including younger relatives and colleagues.
A commemorative plaque chosen by Sandy, Ben and Sam testifies:
JOHN ROGER RIMMER: a life of service and mentoring. A kind and insightful man, much loved by his family: Sandy, Ben and Bron, Sam and Maddy, Thea, George, Tom, Maggie and Penny.
Peter Gerrand, founding CEO of Melbourne IT, was a long-term friend of John Rimmer.
Source link