[ad_1]
MBW Reacts is a series of analytical (and occasionally opinionated) articles on Music Business Worldwide written in response to major recent entertainment events or news stories. The following analysis, which comes in the wake of the news that ByteDance is shutting down Resso's free tier, is written by David Turner, occasional MBW contributor and the founder of the Penny Fractions newsletter.
---
The music industry's future is once again up for debate. New payment models are being rolled out, TikTok's role in breaking new music is igniting arguments, and the role of "inside-out major" companies is stirring up intrigue.
Yet all of these conversations have somewhat sidelined what may have been the music industry's hottest topic a few years ago: Advertising-supported streaming.
Lingering paranoia over the impact of music piracy and tensions initially with YouTube, then Spotify, could be traced back to allowing access to music through advertisements rather than paid subscriptions.
The long-coming success of Spotify and YouTube muted these discussions, but a slowdown in streaming growth is reopening that previous industry hot topic.
Last year Gaana, one of India's biggest local streaming platforms, entirely removed its free streaming offering – a rather bold decision when its subscription revenue was only a third of the size of its advertising revenue.
Then Deezer, in its two most recent quarterly reports, cited a bump in Average Revenue Per User (ARPU) attributed specifically to exiting certain free tier markets.
Meanwhile Spotify in Q1 2023 saw its ad-supported gross margin further atrophy, which it attributed to content costs.
And today (May 3), in the latest example of ad-supported streaming's vulnerability, ByteDance confirmed that it's extinguishing the free tier of its flagship music app (and TikTok sister platform), Resso.
Deezer, Resso, and Gaana all stepped away from subsidizing free users, since neither built a model to effectively convert costly users into paying ones.
This rather significant business shift should inspire wider reflection on the health of ads-based streaming in the music business. Especially amongst those corners who argue it's the progenitor of future sustained industry growth.
Here is a peek into just how other music streaming companies are fairing with their advertising businesses and there might be other warnings laying out there in the plain sight of financial filings…
---
Pandora
In 2018, SiriusXM purchased Pandora, explicitly suggesting the internet radio service's free tier could convert more users into premium subscribers. At the time of the purchase of Pandora's MAUs (monthly active users) stood at over 70 million, a number that's since fallen by over 20 million according to SiriusXM's 2022 Q4 filings.
Meanwhile, in the three years between Q4 2019 to Q4 2022, Pandora and SiriusXM subscription revenue respectively increased 3.1% and 9.7%. Not a level of growth that one might expect considering the $3.5 billion SiriusXM spent on the acquisition.
If the initial thesis of Pandora being able to bump subscriptions didn't pan out, then what about its advertising business?
Pandora is only available in the United States, which limits growth potential but does allow the company to focus on the world's strong advertising market without being burdened with international licensing and publishing deals. Those advantages, so far, have shown to not be enough to offset a shrinking user base.
---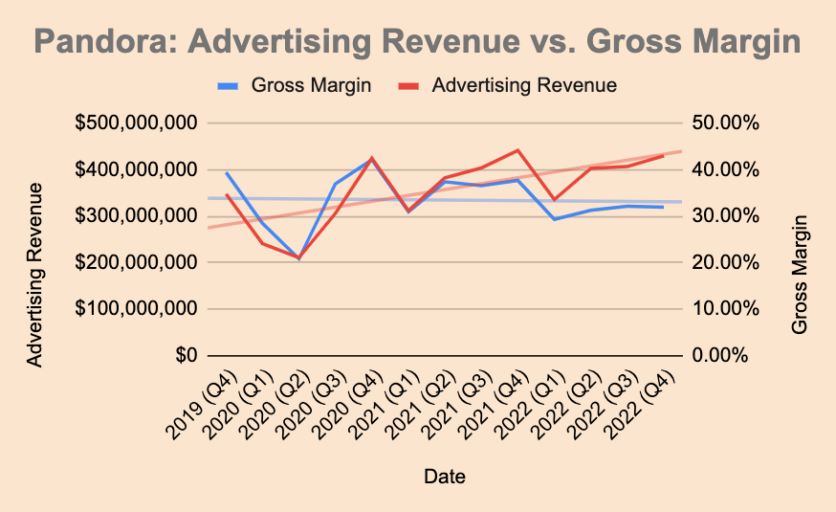 ---
The company's gross margin declined over the last few years, even as advertising revenue increased. (The company's average gross margin dipped from 35.8% in 2019 to 31.1% in 2022.)
The already high costs of the advertising business is being squeezed by audience contraction and a current softer advertising market that's hitting most digital media firms.
Still Pandora is a fairly mature company and its issues with declining users well pre-date its purchase by SiriusXM, so let's turn next to a slightly healthier comparison point.
---
Spotify
Earlier this month, Spotify told Billboard how it's seen massive growth in Indian users, and believes this is the beginning of turning those users into paying ones. (Notably, these comments came right after Zee Music, one of India's biggest labels, backed out of Spotify and Gaana.)
The boosting of Spotify's free plan is a familiar story told by Daniel Ek, and other executives, over the years in interviews and press conferences in touting how it helped "defeat" piracy.
This argument – that sucking up users into a free 'funnel' then leads to many of them converting into paying users – is often backed up by Spotify's history in Europe and the Americas, where the company's balance between premium and ads-based listeners is more evenly split.
But it holds a bit less water in markets where Spotify has expanded internationally but hasn't found the same level of paid support.
Notably, when Spotify entered India and Russia – before exiting after the onset of Russia's war with Ukraine – it didn't aggressively pursue telecommunication deals. A notable departure from how the company built up its business in Europe and Latin America.
---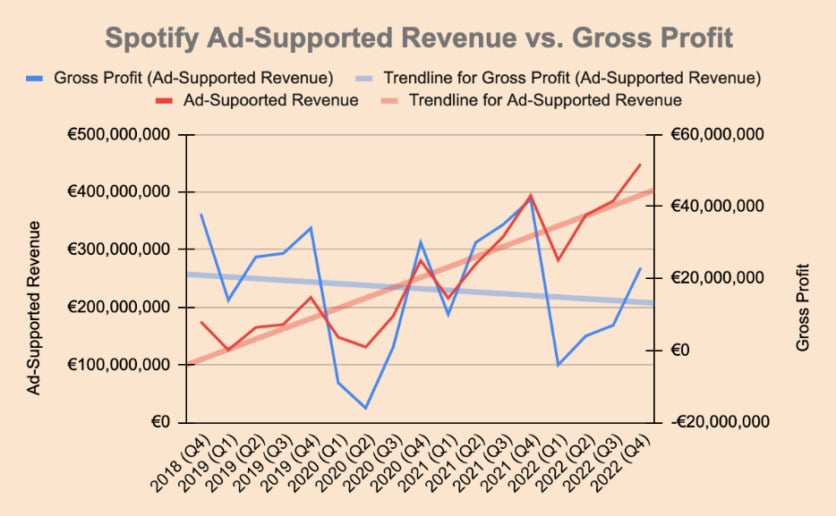 ---
Mirroring Pandora, Spotify's advertising revenue has gone up since the company went public in 2018. But its gross profits have noticeably declined in the same period, with the coronavirus-induced exception of 2021.
Even if Spotify can rightfully see advertising revenue continuing to climb, the gross profit on the business remains on a soft downward trend.
An inverse pattern is found on the premium side, which accounts for ninety percent of Spotify's revenue, and sees a strong upward trajectory of revenue growth matched by gross profit.
Advertising can be understood to be a loss leader for Spotify, and a piracy deterrent for the industry; but when the current trend of declining profits with increasing revenue it may be worth readdressing that assumption.
Specifically in India, Spotify can tout an increase of ad-supported users – but that's hard to value without a sense of the costs to maintain that part of the business.
(Industry commentator Mark Mulligan was skeptical of India's potential for the company prior to launch four years ago.)
Spotify's current financials would indicate that increased expansion of its advertising business is resulting in further, not less, financial strain.
The firm's global advertising costs jumped 132% from Q4 2018 to Q4 2022, while revenue only increased 107%.
Notably, Spotify's recently released Q1 2023 numbers showed the quarterly advertising gross margin at -3%, the lowest recorded in the last five years.
If Spotify, through aggressive expansion, is only further putting strain on its advertising business, then what about the world's biggest streaming platform?
---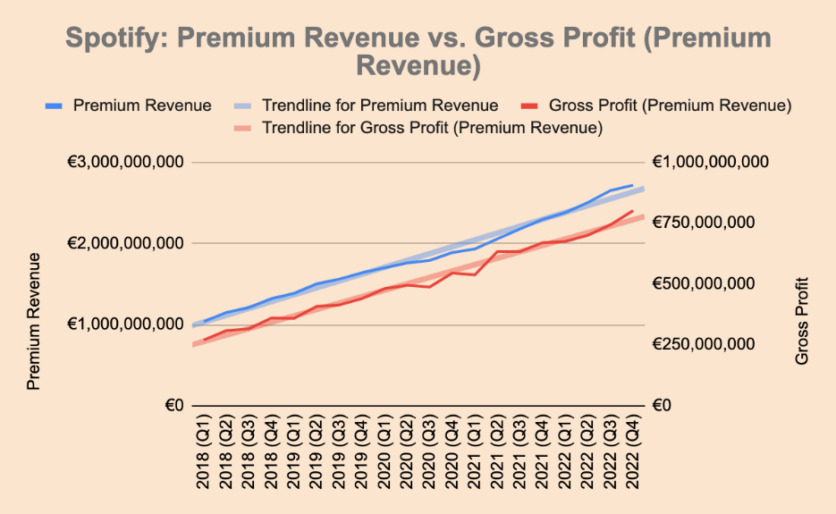 ---
Tencent Music
The Chinese music streaming conglomerate, Tencent Music, is known for posting stronger margins than its western peers – thanks to its non-streaming ('social entertainment') revenue.
Unfortunately for Tencent Music, the Covid-19 pandemic and shutdown over the last few years ate into that part of the business.
A bummer for its bottom line, but it now makes for an excellent case study.
---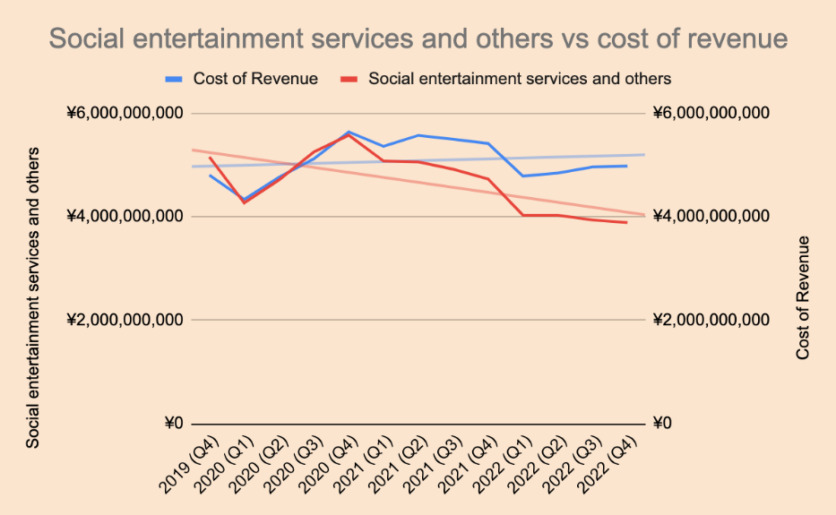 ---
Since Q4 2019, the revenue generated by Social Entertainment at Tencent Music has declined by nearly 25%, while the overall cost of revenue inched up 3%.
Not a major move, but it illustrates what a music streaming business can look like, when its revenue is not wound up in an advertising-based revenue.
The same cannot be said for advertising revenue that saw a 17.6% increase in the same period, outpacing cost of revenue. And all the while music subscription revenue rapidly accelerated (+111.8% since 2019) well outpacing all other revenue and costs.
Those three revenue paths ('social entertainment', advertising, and subscription) point to why Tencent Music, even in years of headwinds, is still able quarter-over-quarter to show decent profits, along with reducing marketing spend – again, something not yet seen by western music streaming counterparts.
Clearly, the under-appreciated precarity of advertising-based streaming right now in an era where companies are trying to prioritize profitability over growth wasn't lost on everyone.
---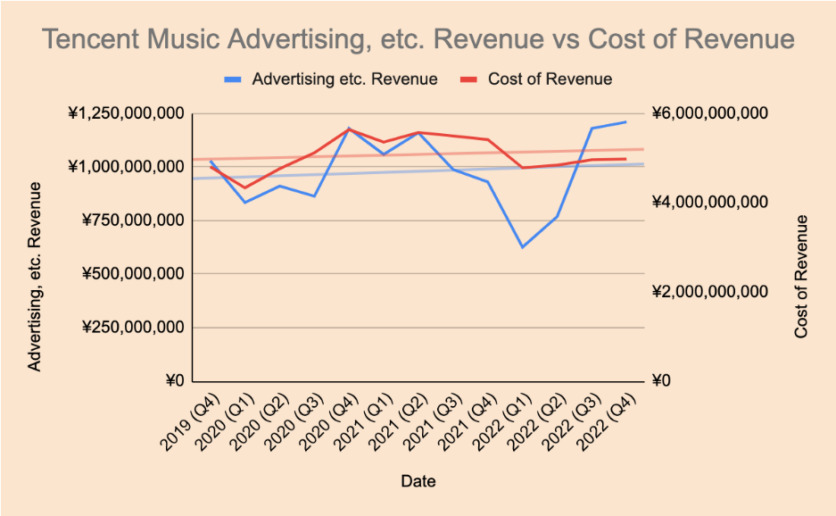 ---
Right now, there's a fairly clear rollback in expenses across global technology firms. Layoffs continue to make headlines and Meta's hardball offer towards the Italian Society of Authors and Publishers (SIAE) indicates an era 'blind checks' towards music from tech may be closing.
This further underscores a need to interrogate this side of the business, and understand that this model may not be fully working as intended.
There may be a preference for rights holders to see an increased push of paid subscriptions but streaming platforms shouldn't be blind to the economic weight of subsidizing free users, while dragging their feet to increase prices.
A choice must be made soon.Music Business Worldwide
[ad_2]
Source link