A new set of statistics have shed light on the degree of internet access in Nepal. According to the data released by the Central Bureau of Statistics (CBS) for the National Census 2078 (2021) published on Chaitra 10, 2079, 37.8 percent of Nepali households have internet access. That means 25 lakhs, 14 thousand, and 510 households have broadband penetration across the country. The same report also highlighted that more than 17 lakh citizens don't own any mobile phone while landline phone use sees further low.
The report shows that urban areas are highly covered with broadband penetration compared to rural regions. The report shows 45.7 percent of municipalities have internet access in Nepal. While 21.5 percent of rural municipalities (gaunpalika) have been ensured internet facility till 2078 BS.
The government has been promoting the Digital Nepal Framework for the digital transformation of Nepal and it includes continuous growth of internet penetration. Telcos and fixed-line broadband internet service providers have been very active in expanding their telecom services in remote areas across the country. The census data will continue to improve in the days to come.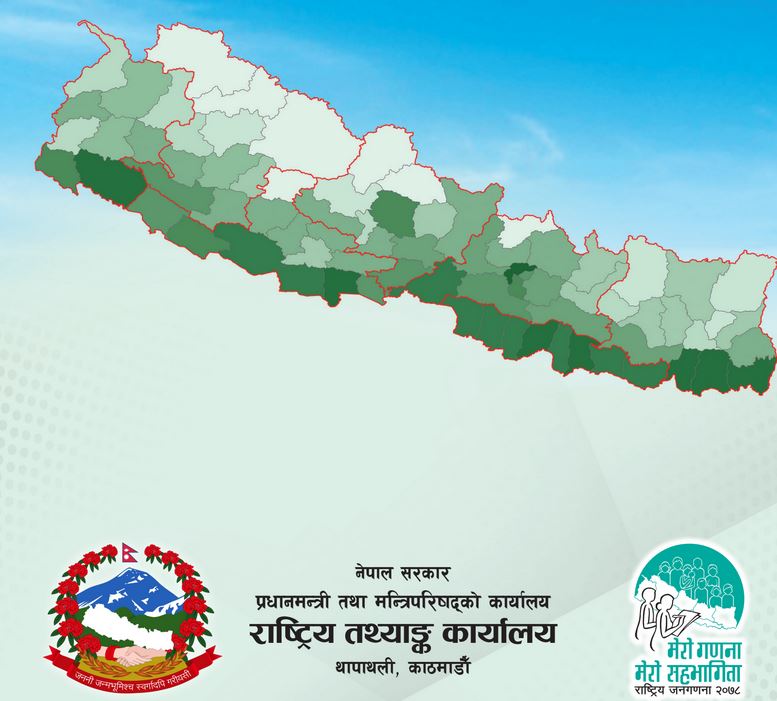 Also read: Fiber Internet Users Continue to Grow With Ntc Giving a Stiff Competition to the Privately-Run ISPs
Mobile phone access in Nepal
At the same time, smartphone access has also increased as per the 2078 census statistics. The data shows that 73 percent of Nepali households have at least some form of smartphone penetration.
That is out of the total 66 lakhs, 60 thousand, 841 households in Nepal (Census 2079), 48 lakhs, 76 thousand, and 561 households have mobile phone access. That also means 26.8 percent population has no phone access which stands at 17 lakhs, 84 thousand, and 280 households.
Likewise, 15 percent of the total households have a computer or a laptop. Comparing the access in areas, 19.8 percent of families in urban areas and 4.9 percent of families in rural municipalities have got a computer in their homes. Just like internet access, laptop/computer access is low in rural regions in comparison to cities.
Check out: Smartphone Vs Laptop; which one to prefer?
Internet access in Nepal
As the data show, Nepal's internet access is growing at a growing pace. The stats show less number of families having internet services in rural municipalities however, the trend has an upward trajectory so it will only grow in the coming years. Similarly, TV, and Laptop/computer access are also showing a growth trend with 49.4 percent and 15 percent of families respectively. However, landline service continues to become less relevant as highlighted by the data. The number of households having a landline phone has come down to 4.5 percent which has to do with the incremental growth of smartphone usage.
But interestingly, phones are still used by a huge section of the population. As the data show, 73.2 percent of Nepali households use any kind of phone. However, the smartphone is used by 73 percent of families which means 0.2 percent of families use a basic feature phone. Below, the table illustrates the penetration of communication services including other home devices in Nepal as per the National Census 2078 report.
Home Device/Service access in Nepal
Total
families and percent
Municipalities
families and percent
Rural municipalities
families and percent
Internet
25,14,510
(37.8 percent)
20,44,989
(45.7 percent)
4,69,521
(21.5 percent)
Radio
22,80,123
(34.2 percent)
14,75,935
(33 percent)
8,04,188
(36.8 percent)
TV
32,91,185
(49.4 percent)
25,19,839
(56.3 percent)
7,71,346
(35.3 percent)
Landline Phone
3,01,604
(4.5 percent)
2,75,637
(6.2 percent)
25,967
(1.2 percent)
General Phone
48,76,561
(73.2 percent)
31,52,746
(70.5 percent)
17,23,815
(78.9 percent)
Smartphone
48,62,885
(73 percent)
3,53,879
(78.3 percent)
13,59,006
(62.2 percent)
Laptop/computer
9,98,478
(15.0 percent)
8,90,781
(19.9 percent)
1,07,694
(4.9 percent)
Source: CBS, Nepal
Internet access by province
The data also shows the divergence in internet access among the provinces. Of the seven provinces, Bagmati Province shows to have the highest percentage of internet penetration in Nepal with 55.2 percent. Gandaki Province has 47.9 percent of households with connected by any type of internet.
Likewise, Koshi Province and Lumbini province have respectively 38.1 percent and 36.0 percent of families with connectivity. Karnali Province comes last with 20.3 percent of families having an internet penetration.
Learn: How to Get Internet Connection at Home in Nepal?
Internet access growing more important than ever
In terms of access to services, communication services rank above others such as motorbikes, fans, refrigerators, and other transport, and household items. No doubt that internet service is considered a human right these days. However, the public still has reservations about the cost factor of broadband access.
As per the latest CBS statistic on the 2078 Census data, there are 2 crore, 91 lakhs, 64 thousand, and 578 people. Of the total, there are 1 crore, 42 lakhs, 53 thousand, and 551(48.98 percent) males and 1 crore, 49 lakhs, 11 thousand, and 27 (51.02 percent) females and 2 thousand, 928 or 0.001 percent preferred to be classified as third-genders.