[ad_1]
The CRTC, which receives hundreds of radio filings each year, said it 'foresees significant delays in examining them during the modernization of its regulations'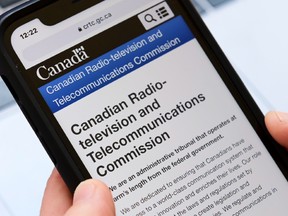 Article content
OTTAWA — The federal broadcast regulator won't deal with any new radio applications or complaints for the next two years — a move that took radio broadcasters by surprise.
Many radio stations "are facing really urgent challenges," said Kevin Desjardins, president of the Canadian Association of Broadcasters.
Article content
"At this point, they've basically been told that no, you can't raise any issues until we're done with this process of implementing the Online Streaming Act…. It creates some concern for the members."
Article content
Barry Rooke, executive director of the National Campus and Community Radio Association, said several of the association's members "are already well into the process where this is going to cost them a lot of money." There are about a half dozen new stations aiming to apply with the CRTC who will now find it "very difficult to be sustainable," he said.
The CRTC, which receives hundreds of radio filings each year, said in a notice it "foresees significant delays in examining them during the modernization of its regulations" under the Online Streaming Act. It will still process applications involving changes of ownership.
The regulator said it has decided to "defer" dealing with any new radio application or complaint "during the implementation of its regulatory plan for modernizing the Canadian broadcasting system, for a period of approximately two years."
The CRTC has been tasked with implementing the Online Streaming Act, which requires streamers like Netflix to contribute to the Canadian content system. As Bill C-11, it drew controversy over putting user-generated content under the CRTC's regulatory authority, though the CRTC has now been instructed to exclude posts from digital creators and everyday Canadians.
Article content
Federal government's generative-AI consultation 'odd' and 'secretive,' critics say

'Inching toward life support': Small news outlets struggle with Meta's news blocking
That implementation process involves multiple consultations and could drag on for years. In its announcement Thursday, the CRTC said it's a process that "will bring major changes to the Canadian broadcasting system."
"Implementing this approach will also require considerable resources on the part of both the Commission and the industry," it added.
The regulator argued the two-year deferral would allow "the public and potential stakeholders, many of whom have limited resources, to focus their efforts on participating in the various Commission proceedings aimed at modernizing the Canadian broadcasting system." It said it would be "preferable for all to benefit" from those changes before "pursuing their regular activities."
If applicants can demonstrate "exceptional circumstances," the CRTC will deal with them "as time and resources permit."
Rooke said over the past year, close to a dozen community groups looking to start radio stations have reached out to his association. "These are great examples of communities that are simply not serviced by commercial radio stations or the CBC," he said.
Article content
"A two year delay will in many cases cause challenges for funding opportunities," such as fundraising or seeking local advertising, he said. "They're just not going to have the capacity to do that without having that licence in place."
Rooke said he would like to see the CRTC put in some sort of fast-tracking or temporary licence for community stations, which don't normally compete with commercial radio broadcasters. "If you're trying to start radio stations, community-based stations in areas where there are no other local media, I can't see … why there would be a reason to stop it."
Our website is the place for the latest breaking news, exclusive scoops, longreads and provocative commentary. Please bookmark nationalpost.com and sign up for our politics newsletter, First Reading, here.
[ad_2]
Source link