Amplitude modulation radio, better known as AM radio, has been around for over a century, and, originally, was a technological advance as big as television or the internet in terms of revolutionizing how humans interact. AM radio has also been relied on for almost that entire time for use in emergencies because it's a tried and trusted way of communicating to millions of people, and because for decades AM radios have been in cars. The problem, now, is that electric motors and AM radios don't like each other, or so the automakers claim.
That means that if you a buy a new Tesla, you won't have an AM radio, and the same goes for Ford F-150 Lightnings starting in the 2023 model year. AM radio is still a feature on Hyundai's Ioniq 5 and Toyota's bZ4X, proving that it isn't an impossible challenge for EV makers.
Ford was also able to have AM radio in prior year F-150 Lightnings, though now it's gone, because "electromagnetic" something or other, according to a statement published in a story Monday by Wall Street Journal AM radio reporter Ryan Felton:
"The frequencies involved in AM radio tend to be directly affected by the electromagnetic noise in EV propulsion systems," Ford said in a written statement.
That doesn't really explain how Ford was able to get around this technological hurdle with prior F-150 Lightnings, but Felton also reports that former heads of the Federal Emergency Management Agency sent a letter Sunday saying that automakers making the choice to drop AM radio is bad.
The government should seek assurances that auto makers will maintain AM radio in cars, said seven former Federal Emergency Management Agency administrators in a letter Sunday to Transportation Secretary Pete Buttigieg and some congressional committees that was viewed by The Wall Street Journal.

The issue, the former officials say, is that AM radio serves as a linchpin of the infrastructure behind the federal National Public Warning System, which provides emergency-alert and warning information from FEMA to the public during natural disasters and extreme weather events.

"When all else fails, radio stations are often the last line of communications that communities have," Craig Fugate, the head of FEMA during the Obama administration, said in an interview. Mr. Fugate is one of the signers of the letter.

More than 75 radio stations, most of which operate on the AM band and cover at least 90% of the U.S. population, are equipped with backup communications equipment and generators that allow them to continue broadcasting information to the public during and after an emergency, FEMA said.
G/O Media may get a commission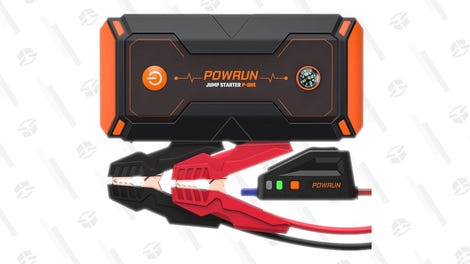 36% Off
Powrun P-One Jump Starter
Power up
This jump starter is incredibly easy to use, has an LCD display to help you stay updated, and has plenty of protection built-in to keep the user safe.
The argument for having AM radio in cars to use in emergencies is reason enough to keep it, perhaps even require it, in the same way that the government requires new cars sold in America to have other basic safety features. Reliable communications in an emergency? Seems like a nice thing to have.
There is possibly an even better argument for AM radio, however, which is: baseball. A baseball broadcast on AM radio is timeless, otherworldly, reliable, and blissful. An AM baseball broadcast that also cuts in to tell me when there is an emergency? Tesla owners will never experience such a heaven.
Source link