[ad_1]
Owned and operated by Merlin Entertainments since 2006, Gardaland in northeastern Italy is a top theme park resort encompassing the Gardaland amusement park, the Legoland Water Park, a Sea Life aquarium, and three hotels – Gardaland Hotel, Gardaland Adventure Hotel and Gardaland Magic Hotel. Gardaland welcomes nearly three million visitors a year. 
Located on the shores of Lake Garda, the park was first conceived in the early 1970s by Livio Furini, an entrepreneur from Verona. He took his inspiration from a trip to Disneyland in California. Gardaland was inaugurated on 19 July 1975. Its first hotel, Gardaland Hotel, arrived in 2004, making the park the first in Italy to offer themed accommodation.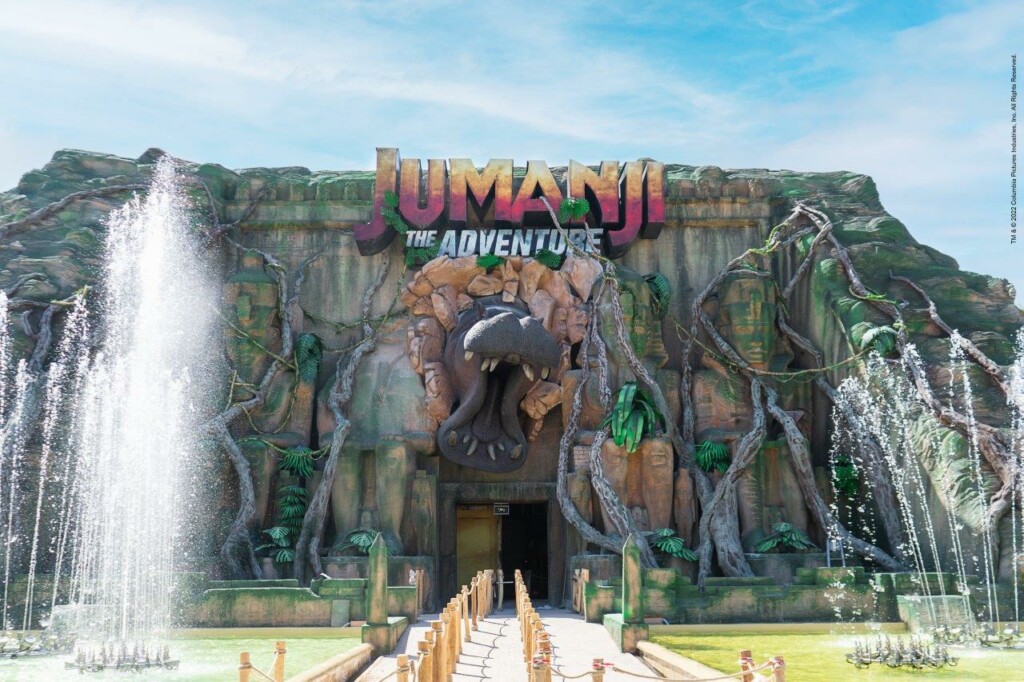 After Merlin acquired Gardaland in 2006, the Sea Life aquarium opened in 2008. This was followed by the Gardaland Adventure Hotel in 2016, and the Gardaland Magic Hotel in 2019. Most recently, Gardaland opened the first Legoland Water Park in Europe – a 15,000-square-metre aquatic attraction with millions of Lego bricks.
Italy's top amusement park Gardaland is also one of the largest in Europe. The park is home to family-friendly attractions and dark rides, coasters for thrill-seekers and themed water rides. Also, Gardaland fans can enjoy a themed area dedicated to its friendly dragon mascot Prezzemolo, who is as old as the park itself. Keep reading to find out everything you need to know about the European theme park destination.
Jumanji at Gardaland Resort
In 2022, Gardaland opened the world's first Jumanji-themed ride, based on Sony Pictures' $2 billion film franchise. So far, Merlin's partnership with Sony Pictures includes a Jumanji-themed land at Chessington World of Adventures in the UK and two Jumanji attractions at Gardaland. The first of these, called Jumanji – The Adventure, is a family-friendly dark ride. Guests encounter pitfalls, surprises and threats in the jungle. 
Riders find themselves inside the Jumanji game while audio and video effects simulate an off-road experience. Animatronics in the attraction include the head and hand of the 'Stone Giant'. There's also a huge hippo and a supersized spider. "Gardaland continues on the winning path of licensing agreements with leading global brands," said Aldo Maria Vigevani, the former CEO of Gardaland. 
"The global importance of the Jumanji brand will surely contribute to further reinforcing Gardaland Resort's reputation as a top tourist destination in Europe and place it among the market leaders for fun attractions," he added. "Synonymous with adventure, fantasy, fun, action, play and imagination, Jumanji blends seamlessly with Gardaland's founding values," he added.
"Adding many new elements, fans will be transported far beyond their imagination, deep into the jungles of Jumanji," said Jeffrey Godsick, EVP of global partnerships and brand management and head of location-based entertainment (LBE) at Sony Pictures. "The team at Gardaland are top-notch creatives and storytellers who have designed an immersive experience that expands on the world created by the films."
A new Jumanji maze
The Jumanji dark ride and four Jumanji-themed rooms at the Gardaland Hotel were followed in spring 2023 by Jumanji – The Labyrinth. This immersive attraction is "a wild jungle maze, a labyrinth of mirrors and a tunnel infested with snakes".
Visitors can "further immerse themselves in the adventurous world of Jumanji", said Godsick.
"The premier theme park in Italy – Gardaland – just got even better thanks to our long-time partners at Sony Pictures Entertainment," said Scott O'Neil, CEO of Merlin Entertainments. "Continuing to bring the Jumanji world to life for our guests is an absolute dream come true for our growing number of visitors at the resort, and even more fun for our award-winning creative teams of Merlin Magic Makers."
"Increasingly, brands are looking for ways to connect with their audiences by bringing those films/stars to life and Merlin Entertainments is the one unencumbered theme parks and attractions business with the scale needed to connect with fans around the world," O'Neil added.
Accommodation
The original Gardaland Hotel is a 4-star property with 247 rooms, 36 of which are themed. Some of them to Jumanji and some to Peppa Pig. It also houses two bars – the Wonder Bar in Wonder Palace and the Pool Bar in the Blue Lagoon water park area. Restaurants on offer are the Wonder Restaurant Buffet and the Matka Family Gourmet Restaurant.
The Gardaland Adventure Hotel, another 4-star resort, has 100 Arctic, Arabian, jungle and Wild West-themed rooms. The hotel's Tutankhamon Restaurant takes its inspiration from a pharaoh's temple. The most recent accommodation, Gardaland Magic Hotel, is also a themed 4-star hotel with 128 magical rooms. Guests will find themselves in an enchanted forest, a magic ice castle, or a wizard-themed room. 
"The opening of Gardaland Magic Hotel will significantly increase the resort's capacity to offer a unique tourist destination for families, both at national and European level," said Vigevani.
Europe's first Legoland Water Park
Europe's first Legoland Water Park is located inside the Gardaland theme park. It contains millions of Lego bricks, interactive water games, themed areas and colourful waterslides. The water park has its own shop, as well as the Harbour Restaurant and Beach Party Kiosk F&B outlets. "Legoland Water Park is the first Lego-themed water park in Europe and fifth in the world – until now people had to go to Malaysia or the United States to find something similar," said Vigevani. 
Highlights include Miniland. This is home to around 100 monuments made from Lego bricks – including the Milan Cathedral and Rome's Colosseum. The Beach Party boasts play areas, colourful slides, water cannons, and a giant bucket. Meanwhile, Duplo Splash caters to children experiencing their first waterslides. Jungle Adventures comes with family-friendly waterslides, and Pirate Bay has a large swimming pool.
At Gardaland's Lego-themed aquatic attraction, there are nearly 1,400 cubic metres of water in the swimming pools. Plus, 1,500 litres of water is poured from the bucket at the top of the Beach Party tower. Also, the total length of the Jungle Adventure slides is 344 metres. Gardaland used 4,900,000 Lego bricks to create the monuments at Miniland.
Merlin's Sea Life aquarium
Merlin operates 50 Sea Life aquariums across the globe.
Gardaland Resort's version has 40 themed pools, transparent domes and an underwater tunnel. Guests can meet more than 5,000 marine creatures, such as sharks, stingrays, sea lions and Napoleon fish. The aquarium also provides interactive and educational games. This includes a new feature where fish designed by visitors come to life in 3D.
Gardaland Resort's Peppa Pig Land
Merlin has a licensing agreement with Hasbro, which owns the Peppa Pig brand, and has a collection of Peppa-themed attractions across the world.
These include a Peppa Pig Theme Park in Florida with two more under construction, Peppa Pig World of Play venues, and the Peppa Pig Land at Gardaland. As well as meeting characters from the animated TV series, young visitors can enjoy a Grandpa Pig ride, a water ride, a hot air balloon ride, Peppa Pig's house, and Mr. Fox's gift shop.
F&B at Gardaland Resort
This Merlin park is home to many F&B outlets. As the name suggests, the Saloon Pizzeria serves a wide range of pizzas, while diners at Hacienda Miguel can find Mexican-inspired dishes such as nachos and chicken croquettes. Merlin Stube is a Medieval-themed eatery, Ristorante Aladino is situated in an Arabic-style building and fast food is available at the Blue Tornado. Meanwhile, Buffalo Ranch serves American BBQ dishes.
Kiosks include a hot dog stand in the Kung Fu Panda Land, as well as Focacceria Western, Chiosco Beerhouse, Chiosco Salsiccia, Bar Aladino and Bar Jungle Rapids.
Thrill rides and coasters
Coaster fans at Gardaland Resort can pick from Blue Tornado, Oblivion, Raptor and Shaman. Blue Tornado is a Vekoma inverted roller coaster with a maximum speed of 80 km/h. It has a top height of 33.3 metres, a track length of 765 metres, and five inversions. Oblivion is a Bolliger & Mabillard dive coaster offering a top height of 42.5 metres and 566 metres of track. It reaches maximum speeds of 62.2 mph and has two inversions.
Raptor is a steel winged coaster, also made by B&M. This boasts two splash elements, three inversions, speeds of up to 56 mph, a top height of 33 metres and a length of 770 metres. Manufactured by Vekoma, Shaman is another steel coaster with four inversions, a top height of 30 metres, a top speed of 70 km/h, and a track length of 750 metres. Additional thrill rides at Gardaland are Space Vertigo, a 40-metre drop tower built by Intamin, and the Magic House dark ride by Vekoma.
Family attractions
Gardaland's family-friendly offer is vast, with rides divided into fantasy and adventure. For young guests, there are the Giostra Cavalli carousel, the Doremifarm tractor ride, and the Transgardaland Express and Funny Express train rides.
Also available are the Volaplano and Baby Pilota plane rides, Mr Ping's Noodle Surprise teacup ride, and the Baby Canoe, Baby Cavalli and Peter Pan roundabout rides. Prezzemolo Magic Village is a play area for children, while Prezzemolo Land is a Medieval-themed water play area.
Gardaland also features a monorail, the Flying Island observation attraction, and a caterpillar-themed coaster for kids.
As for Gardaland's adventure rides, there are two Jumanji attractions, as detailed above.
Fuga da Atlantide is a water ride and Jungle Rapids is a river rapids ride, both by Intamin. Colorado Boat is a log flume ride built by German manufacturer Mack Rides. Mammut is a Vekoma mine train steel roller coaster, Kung Fu Panda Master is a steel spinning wild mouse coaster, and I Corsari: La Vendetta del Fantasma is a pirate-themed dark ride. Guests can also watch a 4D film based on Rudyard Kipling's classic novel, The Jungle Book.
Shows and entertainment
Entertainment experiences available at Gardaland Resort in 2023 range from a Captain Nemo-inspired show to a Cocomelon meet and greet. The park opens with a dance performance starring its mascot, Prezzemolo. Throughout the day, guests can see a magic show called Magico Me, as well as the Dixie Band. As above, children can meet JJ for a Cocomelon photo opportunity, and Peppa Pig and Prezzemolo.
Gardaland has a Hawaiian party in the evenings, the Wild West-themed musical show and 44 Gatti circus show in the afternoons, and a pirate-themed show called L'alleanza dei Corsari twice a day. Also twice a day is Captain Nemo's Nautilus show, featuring special effects, projection mapping, original dance routines and live singing. Finally, an Atlantis-inspired show takes place at 10 pm every night.
[ad_2]
Source link