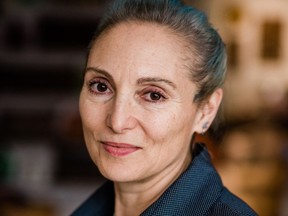 Article content
It's hard not to be aware of the provincial government's latest foray into helping you find health care solutions for whatever ails you. Their radio (and Tik Tok! and YouTube) ads are ubiquitous. The main gist of these ads is that instead of losing sleep over a symptom such as hives or eczema, and instead of entering that 'internet rabbit hole' that will keep you up all night – go ask your pharmacist or your nurse to guide you toward a solution.
Article content
This is both a nod to the expanded prescribing rights of pharmacists and nurses, as well as the government's desire to steer you toward a pharmaceutical 'solution' to your problems.
The message behind these ads is that there is only one good solution, and it has nothing to do with you finding out why you are experiencing your symptoms. No, you simply slap on a topical cream or swallow a pill – and, voila – you are good to go.
That is not health care. That is called 'suppression'. When your body expresses itself to you via various symptoms such as rashes, itching, headaches, pain, and so on – this is your body telling you that it is out of balance. Perhaps (and most likely) your body is not effectively eliminating toxins, and instead of exiting via your bowels, toxins/metabolites are exiting via your skin or are simply being held on to.
Article content
I would love to say that this is our tax dollars hard at work. However, this is your tax dollars being used to advertise for an already ridiculously wealthy pharmaceutical industry. And, not finding the root cause to solve your health problems, ultimately costs the system a lot more money – as your health problems take on further complexity.
A helpful analogy for the pharmaceutical 'solution' is your car: you are driving along and suddenly the oil light comes on. Now, if we follow the government's directives, we will unscrew that little light inside the instrument panel, and, no more annoying oil light warning. Or, the smarter option would be to pull over to check the oil level, and if warranted, top that up with some more oil.
Article content
Staying with the eczema example, you can slap on some cortisone cream that your pharmacist can now prescribe for you. However, that does not make the problem go away, it simply suppresses and buries the issue and perhaps it will, later, manifest in a different form. And then you could take a different drug. But this is like a game of whack-a-mole. What we really need to do is listen to our bodies.
I think it is very necessary to take responsibility for your health, ask questions, and explore alternative treatment options. How about the other forms of medicine that our provincial government has recognized through the institution of various regulatory Colleges? Has the government forgotten that we have numerous options? There is Naturopathic Medicine, Homeopathy, Traditional Chinese Medicine, and more. Yet, you
Article content
are not hearing about these as viable treatment options. Instead, you are being led to a pharmaceutical 'solution' that is very problematic in the long run. All drugs come with side effects, and some of these can be very serious. Suppressing symptoms poses further problems, allowing underlying dysfunction or disease to progress, becoming more complex and harder to treat.
So, by all means, go down that rabbit hole and ask questions. And remember that you have health care choices: you can choose to enlist the help of a natural health care practitioner, to find and treat the underlying issues.
pascaline@naturalpanacea.ca
Source link