Details about Ottawa's takedown requests to social media companies were recently revealed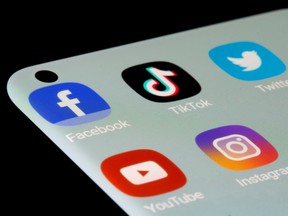 Article content
Recently released documents show that although the federal government is sparing in its requests to social media companies to take down comments, such requests can be abused to censor news coverage that paints the government in a bad light. This is especially concerning given the Liberals' attempts to gain more control over the internet.
Article content
Details about Ottawa's takedown requests were revealed in a 159-page document, which was prepared in response to a written question on the House of Commons order paper by Conservative MP Dean Allison. The document shows that, between Jan. 1, 2020 and Feb. 7, 2023, while most departments refrained from making requests, a handful of government agencies asked that content be taken down for questionable reasons, such as "misinformation," "offensive language" and basic criticism.
The most egregious request was made by the Immigration and Refugee Board of Canada, an administrative tribunal that decides who to let into the country and who to kick out. On Sept. 27, 2021, the board asked Facebook and Twitter to remove links to a Toronto Sun story "containing serious errors of fact risking undermining public confidence in the independence of the board as well as the integrity of the refugee determination system." The request was denied.
Article content
The article that the board tried to censor was likely a column by Lorne Gunter that was published the day before. It covered a confidential leaked email sent on Sept. 20, 2021, by the board's chair and chief executive officer, Richard Wex, which proposed to admit any refugee who could make an "intersectional" claim.
The proposal defined intersectionality as a claimant who checked two or more identity boxes that impact the individual's "lived experience of discrimination, marginalization or oppression," including "race, religion, indigeneity, political beliefs, socioeconomic status, age, sexual orientation, culture, disability or immigration status." It was also proposed that adjudicators give refugee applicants the benefit of the doubt if they gave false information, because trauma might lead them to remember differently.
Article content
Together, it meant that pretty much anyone could be granted refugee status. Given that Canada's government is currently trying to grow the population as fast as possible, widening the criteria for the Immigration and Refugee Board to grant refugee status would provide a lot of help.
Yet the reality is that Canada already has a hard time assisting the refugees it currently has — nearly one-third of homeless shelter users in Toronto, for example, are refugees. To Wex, it might have seemed like a good idea, but such a proposal would place even more strain on our existing support systems. The public had every right to know what was going on.
The leak sparked a witch hunt for the whistleblower and a letter by Wex to the Toronto Sun alleging errors in the paper's coverage (which were detailed by Gunter in a subsequent column). The board also asked for the article to be corrected or retracted. It's not a stretch to guess that this was paired with a series of requests to the social media giants to remove the embarrassing article.
Article content
The request to pull the article was inappropriate — the public had the right to know about the proposal, and if Wex was so certain the Toronto Sun story was unfounded, he could have made his case to the public instead of trying to use backchannels to suppress the news.
The rest of the takedown requests were less exciting, thankfully. The most common reason for government staff making takedown requests was impersonation — they wanted social media companies to remove fake accounts purporting to be official, which is perfectly reasonable.
There were, however, some takedown requests that give cause for concern. The Department of Fisheries and Oceans asked Twitter to remove a tweet after someone posted the photo and name of one of its officers, complaining that he "thinks he is the law." The tweet disappeared but it wasn't clear to department staff whether it was removed by Twitter or the individual who posted it.
Article content
Twitter also denied a Competition Bureau request to remove an offensive reply to a tweet about Fraud Prevention Month in 2020, as well as a Business Development Bank of Canada request to remove an offensive comment about an employee.
Overall, it's uncommon for departments to make large numbers of requests: only four government organizations disclosed more than 10 takedown requests, many of which were reasonable. The Communications Security Establishment made more than 60, all for brand infringements or impersonation (all but one, which is still being considered, were granted). The Canadian Commercial Corporation made about 20 requests, all for impersonation (around half of which were granted).
The Canada Border Services Agency (CBSA) made around 25 requests, mostly for hate speech, harassment or bullying on Instagram (none were granted). The Public Health Agency of Canada (PHAC), made 20 requests, mostly for "offensive language." Most of them were denied. The high number of unreasonable requests on the part of PHAC and the CBSA suggest they are more on the censorious side.
Article content
One caveat to the data drop is that a few government organizations didn't provide any information: CBC-Radio Canada and the National Arts Centre didn't answer the request on time, and the Canadian Security Intelligence Service (CSIS) didn't disclose for "operational requirements" and security reasons.
CSIS could be making hundreds of requests and we wouldn't know about it, but overall, the data shows that, for the most part, civil servants are hands-off when it comes to getting social media companies to censor the internet.
The few that do use their power against the public interest are a cause for concern, though. The federal government is moving aggressively to give itself new powers over the internet with the Online Streaming Act (Bill C-11), and the potential to censor content through government-mandated adjustments to social media algorithms is a real possibility. MPs will need to make a lot more data requests like Dean Allison did in order to keep the public informed.
National Post
This column was originally published in the NP Platformed newsletter. Sign up here.
Jesse Kline: What the Hunter Biden scandal says about big tech's political censorship

Sen. David Richards: Liberals' Bill C-11 is 'censorship passing as national inclusion'
Source link