Social media offers a never-ending stream of content, but to get it, you have to put up with a lot of manipulation. Influencers entice you with clickbait, notifications hijack your attention, and algorithms tune your experience to keep you glued to your phone. The internet can be a hostile place, but recently, I found a thriving little community that feels different. It's called Blast Radio, and it's the most creatively refreshing thing I've seen online in years.
Does Charlie Have a Kryptonite to Her Power?
Blast Radio is a free, audio-only social media platform. Streams go out live, stay up for 24 hours, and then disappear. A growing number of users do podcasts and artsy audio experiments, but for now, Blast is primarily about music. You'll find just every genre, though electronica is especially well represented. Most of the content is people playing songs from Spotify or their vinyl collections. It's like catching a late night college radio DJ getting weird while no one is watching.
Blast's fervent user base includes full-blown music icons like Animal Collective, who debuted unreleased music on Blast, and big name DJs like Carl Craig, Mathew Dear, and Derrick May, who use this new pirate radio to connect with fans, broadcast live shows, and play around in a new format.
"Visual social media platforms are about triggering dopamine, but audio has a different physics to it. The rules that worked on Instagram just don't apply," said Yousef Ali, CEO of Blast Radio. "The last thing I want is you staring at your phone, I want you to put it in your pocket and listen."
Blast has an unusual business model. It's free to listen. There are no ads and no subscriptions. As a casual listener, you can enjoy Blast for no money. The catch is you have to buy a piece of hardware or software in order to broadcast. The list includes a $40 plugin for digital audio software and the $149 Blast Box, a streamlined interface with audio inputs and a headphone jack. All of Blast's products broadcast in lossless high fidelity, which means the platform offers audiophile-level sound quality.
The coolest option, though, is the Blast Mic. It's a stereo microphone and all-in-one streaming machine, with a sleek but nostalgic design that harkens back to the beige electronics of the '80s and '90s. It hooks up directly to your wifi, and from then on, you hit the big red button one time and you're live on the air. It's that easy. If you just want to talk, it's all wireless. You can plug in a cable to play music from your computer's headphone jack or any other source, and it also has inputs for two sets of headphones and two additional mics. If you want to get into podcasting like me, it's probably the easiest option on the market, and at $199, it might be the best value, too.
There's heated competition in the music streaming business, but so far every experiment with live, user-generated audio has floundered. The participatory podcast app called Clubhouse took the social media world by storm last year, but ultimately it flopped. Spotify just shuttered its Spotify Live platform, and Twitter's Spaces feature has been forgotten by everyone but Elon Musk. Apple Music has a live radio style feed, but it's programed by the company, and users can't broadcast.
What's really surprising is how Blast Radio compares to Amp, a similar live audio platform run by Amazon. Amp has its own roster of broadcasters, many more famous than Blast's—Nick Cannon, Nicki Minaj, and NBA star Draymond Green. Amazon pays them, whereas Blast's star power arises from organic interest.
Live Stream Podcasting via One Button? | Gizmodo Interview
Live Stream Podcasting via One Button? | Gizmodo Interview
Blast is a small platform (Ali declined to give exact numbers), but its dedicated user base pumps out high-quality content that's on par with the Amazon-funded competition. The two apps usually have around the same number of listening options; on a recent weekday morning, Amp had 24 streams, and Blast had 20. Sometimes Blast has more. Blast sounds better, too. You don't have to be an audiophile to notice the grating digital compression on Amp. Blast, a tiny Brooklyn startup with seven employees, is going toe-to-toe with a product made by one of the biggest tech companies on the planet.
"What's different about Blast is the possibility of freedom," said Carl Craig, a Grammy-nominated producer, DJ, and pioneer of the Detroit techno scene. "You can go full hog and take it wherever you want to go. Because things aren't posted for weeks at a time there's more of an opportunity to experiment. It's sort of like terrestrial radio that way, except you can play anything you want. On a creative level, it feels great."
Blast Radio means freedom from the algorithms
There's a delightful grab bag of content on Blast. One anonymous user plays old recordings of Detroit AM radio stations. A preacher broadcasts sermons. A user called @SportsReplays plays simulations of classic Boston-area sports games and comments on the action. Unlike traditional radio, you won't find any far-right wing talk shows, at least not yet. Ali said hate speech and other toxic content isn't welcome on Blast, though there haven't been any big moderation snafus yet.
Then there are the rock stars. Animal Collective used the platform to broadcast rehearsals and debut tracks from a recent album. Superstar DJs play hours-long sets every night. Roy Molloy, an Australian musician with a cult indie following, hosts a daily request show called the Illegal Radio Drive Time Power Hour. Like all great shock jocks, Molloy punctuates his broadcasts with a signature catch phrase, it's just a little more colorful than what you hear on AM/FM: "Tune in, or fuck off."
The word "Illegal" in the title of Molloy's show is a cheeky nod to the fact that users often play copyrighted music, but Blast doesn't have any licensing agreements with record labels. Platforms like Blast are governed by the Digital Millennium Copyright Act. Essentially, the DMCA protects companies from users' copyright infringements, as long as they don't have specific knowledge about what users post and as long as they take the content down within one day if rights holders request it. Since Blast streams disappear in 24 hours anyway, so the company's in a gray area. Blast says it's fully compliant with the law.
All that means that artists don't get paid when songs play on Blast. But Gizmodo spoke to a number of musicians and music industry pros, who all said they're fine with that, for now.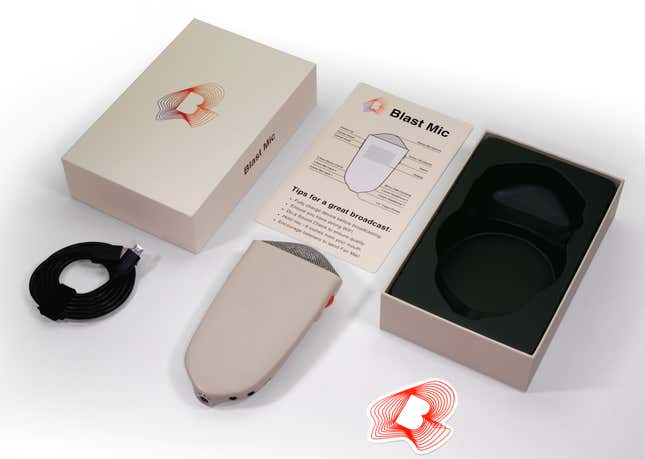 "If it was running ads and making a lot of money I'd have serious concerns, but right now with people sharing music in an intimate capacity, I see it as a good thing, not a problem," Sam Valenti IV, founder of the record label Ghostly International. "It kind of reminds me of Napster. The music industry painted it as insidious, but really, it was just a way for a lot of kids to share and find music. That's something that's missing these days."
What's most impressive about Blast Radio is what it doesn't have. The app is dead simple. You can stream, listen, subscribe to favorites, and hit a like button, which triggers a satisfying warm glow on the broadcaster's Blast Mic. That's about it. There's no comment section, though you can send a message with a cash tip a la Twitch. The main feed isn't run by a content recommendation algorithm, and the livestreams aren't driven by instant feedback like they are on TikTok or Instagram. Blast is a humanist experiment. It's a brand new format.
"I think its success is part of a broader push towards getting off your phone. We're so used to being pushed around," said Valenti.
You don't have to be an international superstar like Craig or the guys in Animal collective to appreciate it. I've been experimenting with my own radio show on Saturday night, playing songs, splicing in sound from YouTube clips, and talking to friends. No matter what time I go live, people listen. But because Blast limits the audience interaction, the platform has engineered away the pressure to perform you feel on Instagram or TikTok (plus you don't have to worry about your looks). Blast is a serious but forgiving tool, which inspires users to try new things.
Blast put radio on the internet. It's better than it sounds.
On HBO's Silicon Valley, there was a running joke that putting radio on the internet is the stupidest idea in tech. It's a 100 year old technology that works just fine. From a business perspective, though, there's a reason people keep trying.
A whopping 83% of Americans 12 and older listen to terrestrial radio at least once a week, according to the Pew Research Center, a number that includes the dip that came with the pandemic lockdowns. In other words, there's a lot of money on the table if you could capture a fraction of the radio market.
"A lot of us coastal elites have the idea that radio was a thing that we all grew up on that died when we started using iPods and became hipsters," Ali said. "But as you start to pull on that thread, you start to realize that radio is still the most dominant medium, period. Not just of audio, but of all media."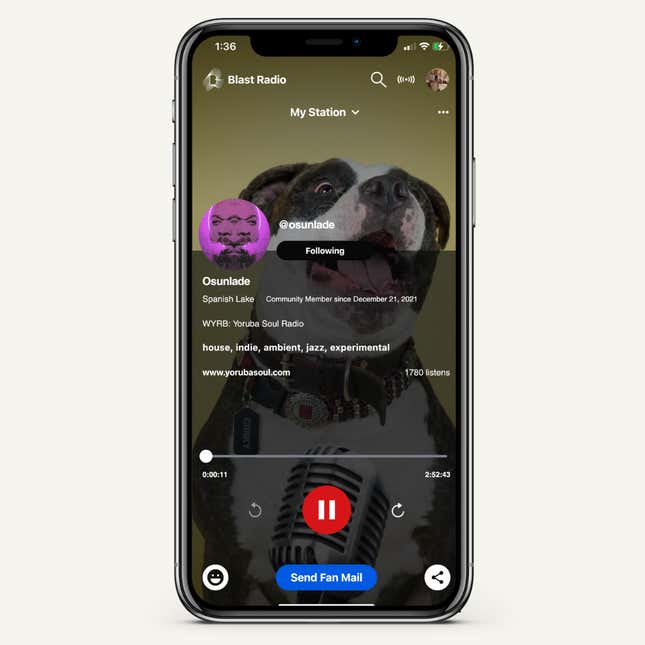 Part of the magic comes via Blast's devices. They feel good in your hand, they're intuitive, and their portability adds to the fun. You could hook a Blast Mic up to your phone's wifi hotspot and broadcast from just about anywhere, opening up creative possibilities that haven't been fully explored. Blast captures the best parts of radio while avoiding all of its problems. You don't get blaring ads every five minutes, the song selection is free from corporate interference, and the vicious political firebrands haven't arrived yet.
On Roy Molloy's Illegal Radio Drive Time Power Hour (IRDTPH for short), the Australian saxophonist takes requests by email and a Discord chatroom. "Something about all these algorithms telling us what to listen to and where to go is patronizing," Molloy said. "There's a purity to the format of radio," where there's a human being picking the songs, not a computer program, and you have no control over what you're going to hear. "You tune and you get what you get," Molloy said.
Of course, it's easy to like a social media app when it's in the early stages where everything's rosy and people are just having fun. That's what Blast looks like now, but Facebook had its honeymoon phase, too. If the platform takes off and people follow it to its logical extremes, it could open up a whole new type of content for artists, creators, and listeners. Or it could devolve into the kind of cesspool you find elsewhere internet.
The inflection point will likely come when Blast opens up the platform so you can broadcast straight for your phone without using the company's products—something that's probably inevitable if the company makes it big. That could flood the app with low quality content, disrupt the intimacy, and usher in misinformation, hate speech, and all the other nasty things you find on major platforms. Of course, that only happens if Blast hits critical mass. Ali said these are problems he'd love to have.
"There's a trance you can fall into with a meaningful listening experience, this comfort and this personal connection," Ali said."That's unique to audio. It's a delicate thing, but that's what I'm trying to create, both for listeners and for broadcasters."
Source link