[ad_1]
In the two-story lobby, monochromatic terrazzo is installed on floors, walls, stairs, and benches.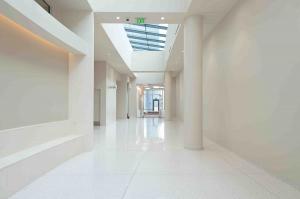 Terrazzo
A terrazzo installation by DESCO Coatings in the Johnson County Courthouse has been recognized by the National Terrazzo & Mosaic Association.
A monumental precast staircase in epoxy terrazzo in the entry provides a sculptural focal point within the floor's grand expanse; mother-of-pearl and marble aggregate lend heft and texture. "
— Blake Wood, President, DESCO Coatings
OLATHE, KANSAS, US, August 22, 2023/EINPresswire.com/ — The National Terrazzo & Mosaic Association (NTMA) has presented DESCO Coatings with a 2023 Honor Award for a handcrafted terrazzo installation in the Johnson County Courthouse. The award was one of 18 honors announced at the trade association's 100th annual national convention in Lake Como, Italy.
With a clean zinc divider strip pattern, the terrazzo flooring was poured in place and trowelled and polished by hand on walls and benches. The project is a total of 20,000 square feet.
The completion of the new courthouse in 2021 marked significant progress in realizing the county's master plan over the past two decades and in revitalizing the city's downtown. Designed to accommodate rapid population growth and reduce energy use, the LEED-certified courthouse was built to serve the county for the next 75 years.
The architect of record on the courthouse was Treanor Architects of Kansas City; the associate architect was Fentress.
DESCO Coatings, an NTMA member since 1997, was established in 1959.
The NTMA's annual Honor Award program recognizes outstanding terrazzo projects its members submit. The program promotes member contractors as the sole qualified resource for terrazzo installations that meet the highest industry standards.
This year, the NTMA, a 148-member nonprofit trade association headquartered in Fredericksburg, Texas, celebrates its centennial. The NTMA establishes national standards for terrazzo systems for floor and vertical applications. Its mission is to promote quality craftsmanship and creativity in terrazzo while supporting its members in their trade and service to the construction industry.
In addition to supporting its member companies in their trade, NTMA's range of complimentary services extends to design professionals, architects, general contractors, maintenance professionals, and building owners. From helping architects write specifications to providing technical assistance at any stage of a project, NTMA's purpose is to help support quality terrazzo installations.
Terrazzo originated in 15th-century Italy, a direct descendant of the mosaic artistry of ancient Rome. One of the world's original sustainable building systems, terrazzo evolved from the resourcefulness of Venetian marble workers as they discovered a way to reuse discarded stone chips creatively. Terrazzo artisans still pour terrazzo by hand on the construction site, with options for precast and waterjet-cut elements. Marble, stone, glass, or other aggregates, often sourced locally, are embedded in a cement or epoxy base and polished. Terrazzo combines design flexibility with ease of maintenance and durability to last the life of the building.
Blake Wood
DESCO Coatings
+1 913-782-3330
blake@descocoatings.com
Visit us on social media:
Facebook
LinkedIn
Instagram
YouTube
TikTok
National Terrazzo Award for DESCO Coatings, Johnson County Courthouse


[ad_2]
Source link