[ad_1]
ROOM TO GROW:


While most podcast listeners are 23 to 44 years old, if the popularity of podcasts continues, older people might use the medium, a programmer said
By Ting Yi
and Jake Chung / Staff reporter, with staff writer
The number of people listening to podcasts in Taiwan has reached half the number of those listening to traditional radio programs, a National Communications Commission (NCC) broadcasting market investigation report said.
The report said that 17.3 percent of people above the age of 16 listen to traditional radio programs, 8.9 percent listen to podcasts and 5.7 percent listen to radio programs over the Internet.
Nearly 73 percent said they do not listen to any podcasts or traditional radio programs.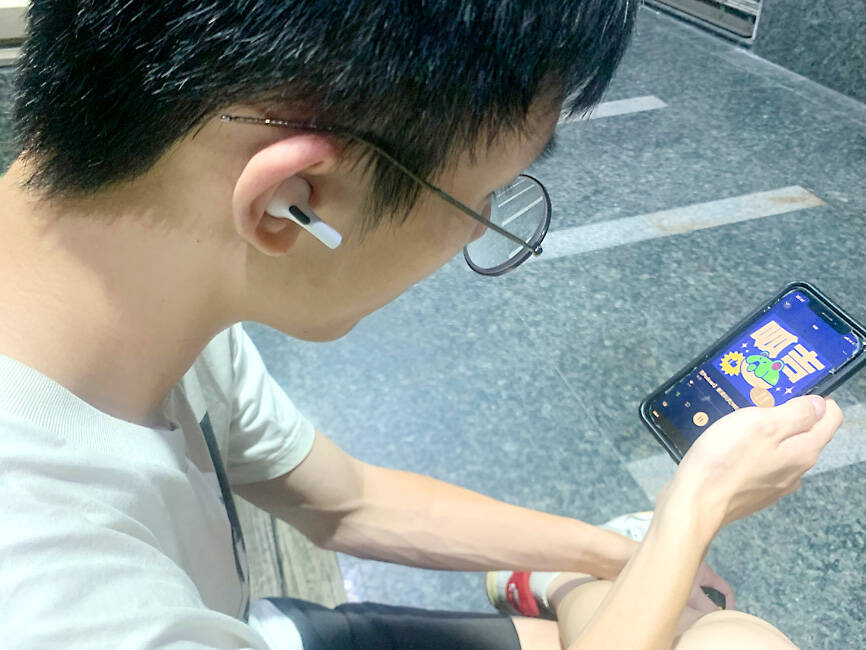 Photo: Ting Yi, Taipei Times
The report said 18.2 percent of podcast listeners were aged 16 to 25, with interest waning as people grew older.
Fewer than 1 percent of podcast listeners were over the age of 66, it said.
About 23.5 percent of traditional radio listeners were aged 46 to 55, while those aged 16 to 25 only comprised 10.7 percent of conventional radio listeners, it said.
The audience of traditional radio programs is passive and is constrained by the time of the program or the topic discussed by the host on a given day, said Liao Ching (廖靖), podcast manager of Comma School (逗點學校).
He added that radio program hosts also have a relatively higher vocational qualification threshold.
The audiences actively search for whichever podcasts they wish to listen to, without radio stations dictating the length or the topic of podcasts, he said.
While most podcast listeners are 23 to 44 years old, if the popularity of podcasts continues to rise, older people might begin accepting the medium as well, Liao said.
Competition between podcasting and traditional radio does not need to be a "zero-sum" game, said Tu Sheng-tsung (杜聖聰), chairman of Ming Chuan University's radio and television department.
The broadcast industry still has much room to grow, as audiobooks and other derivative media show, Tu said, adding that he was more concerned with how podcasters would be able to turn a profit and keep the industry afloat, as Taiwan has a small audience base.
Traditional radio programs are encountering the issue of an aging audience, and creating YouTube channels to broaden their audience bases might be one of the solutions, Tu said.
The NCC poll was conducted from March 14 to April 24 last year and targeted people aged 16 or older. It received 1,346 valid responses and claimed a margin of error of 3 percentage points.
Comments will be moderated. Keep comments relevant to the article. Remarks containing abusive and obscene language, personal attacks of any kind or promotion will be removed and the user banned. Final decision will be at the discretion of the Taipei Times.
[ad_2]
Source link