Description
[ad_1]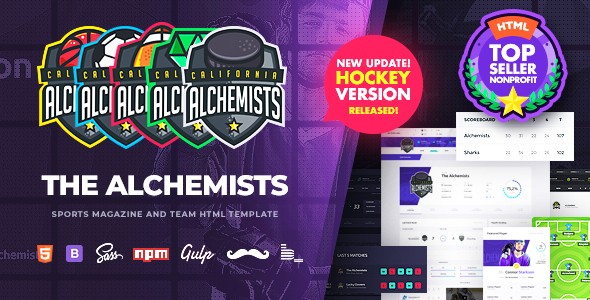 Latest Version 5.0.1 – February 3, 2022 – view changelog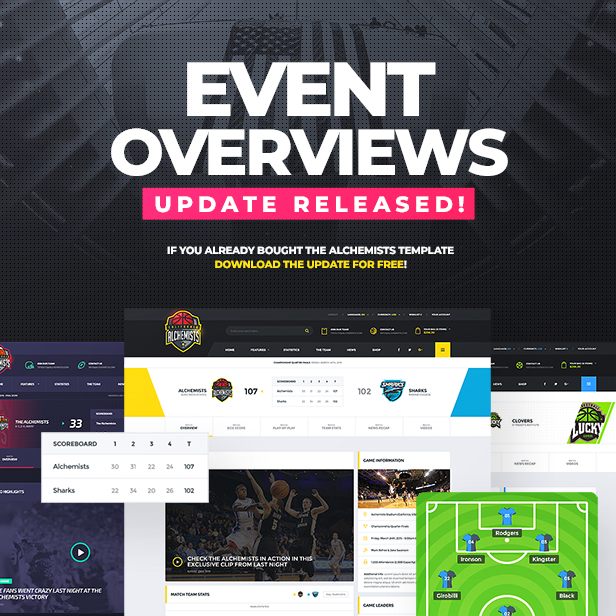 Alchemists – Hockey version Update
New Files! Sums to 242 HTML files in total!
We added new HTML files that sum up to a total of 116 HTML files that include, among other things, new widgets, new pages, like Contact Us and Search results, and a revamped dark design. New PSD files are also included (provided on request)!
Revamped Design and Font Combo
With this update we wanted to provide you with a new and fresh dark version of the Alchemists template with a new color pallete, elements and Google fonts combinations.
New Elements and Widgets
As with Soccer version, we added new elements and widgets and redesign others to fit the American Football theme. Among others we included an Events Calendar, a ranked popular news widget and new match results big and small versions.
American Football tailored pages
With this new version we added all american football related stats and widgets, like the featured player one, or the statistics pages, where, for example, we divided stats to differentiate between stats, in the Quaterback case, color coded passing and rushing.
New Vector Icons included!
As with other versions, we are including new icons made with SVG for easier customization. We also included them in the PSDs.
New Statistics widgets
For the team overview we included new statistics widgets and designs, for example progress bars, and a yearly chart among others.
New Pages
As requested by some buyers, we included some new pages like a separate Login/Register Page, Contact Us and Simple Search Page.
Fully Customizable
We included a breaking news bar in the Home pages and new News widget versions for you to choose the one you like, there are lots of versions to choose from.
Alchemists – Super Complete Sports HTML Template
Wide Range of Versions
We have included several versions of post pages, info blocks, game results and more so you can choose the one you like the most!
141 PSD files included (provided on request)
We have included (provided on request) PSD files so you can customize the design elements all you want! Files includes rosters, shortcodes, shop, news, statistics and much more!
Easy to Customize
Fully Customizable
Easily change the colors with SASS variables. Creating a new skin will take 10 sec
Grid Based Layout
Bootstrap grid allows you to easily change the layout of any pages.
Complete Team Pages
We designed complete team pages with rosters, overviews, galleries, standings, tickets and schedule, latest results and full statistics.
Team Roster Versions
We have included several versions for the roster pages, from a simple list roster, to a player slide and player info card.
Full Statistics and Charts
We included lots of statistics and game charts like, last game results, team leaders, team stats, lineup and tactic chart, timelines, logs, top goalscores, awards, games history and much more!
Full Player Profile Pages
We designed the player profile pages to show all the important info on top and then navigate through the statistics, biography and others via tabs. Each version has a different top design.
Number Statistics and Averages
Both versions include full number statistics and logs (for both the team and players) that include scores, minutes played, assists, fouls and much more. We also included a glossary at the bottom of the main statistics to understand the abbreviations.
Soccer Game Breakdown
For the soccer version we included a complete game overview that includes lineups, tactics, game log, timelines and more!
SVG Custom Icons included
We included in the template all the icons, almost all of them were created by us specifically for this template. We converted them into SVG so you can customize them easily.
Merchandising Shop
We designed 2 shop versions for you to choose. One with product cards, and the other without.
Features
100% Responsive Layout Design
HTML5 and CSS3
Bootstrap 4 (New!)
Sass (SCSS syntax)
242 HTML files
BEM classes naming
Building Tools: npm, Gulp, Panini (handlebars)
CSS3 Animation
Custom SVG icons
Simple Line Icons
Font Awesome 5 Icons
Google Fonts Usable
34 widgets
4 Blog Pages
3 Post Pages
Shop Pages
8 Team Pages
5 Player Pages
189 PSDs files (available by request)
Documentation
and much more…
Sources and Credits
jQuery
Bootstrap 4
Sass/SCSS
SVG for Everybody
Countdown
Easy Pie Chart
Isotope
Slick

Release Notes – Past versions changelogs.
Version 5.0.1 – February 3, 2022
* [tweak] Updates favicons (Hockey)
* [tweak] Removes PSD files (available by request)
Version 5.0.0 – January 31, 2022
* [new] Hockey version
* [tweak] Bootstrap 4.6.1
* [tweak] NodeJS 16+ compatibility (dev)
* [tweak] Google Fonts updated loading method
* [tweak] Form Control - floating labels
* [tweak] Pagination - skewed style
* [tweak] IE11 support has been dropped
Note! Images are not included with the purchase.
Keep up to date
[ad_2]
Source