Description
[ad_1]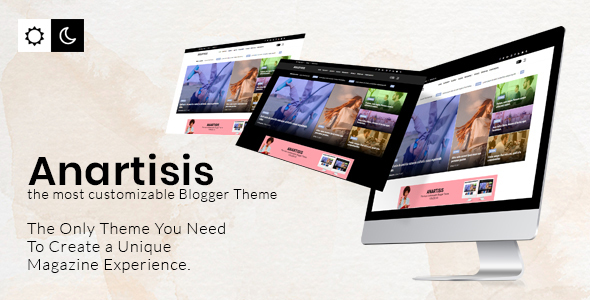 Anartisis is a Blogger theme that lets you write articles and blog posts with ease.
This Blogger Template is a perfect tool for publishers, magazines, newspapers, bloggers and other news websites, for everyone who wants to work in blogspot.
Use Anartisis for many niches, such as politics, fashion, gaming, videos, music, business, publishing, food and world news site.
Create a great news website with our newspaper Blogger template.
This Blogger Theme is based on the latest Bootstrap 4 framework and it's fully responsive.
Organized files for Blogger Theme Designer tool will help you to customize the look of your website.
Try Anartisis Blogger Theme today and build your perfect magazine website.
Anartisis Features
Main features
Sliding Sidebar
Day – Night Mode
Mobile Menu on Sliding SIdebar
Clean, Responsive Design
Images Lazyload Feature
Drag and Drop Homepage Builder
Official Blogger Google Fonts
Unlimited Color Combination
Turbo Fast Support
Layout Control Options
Social Counter Check
RTL Direction Support
Easy to Customize
Flexible and Multipurpose
Megamenu based on Labels
Ready to Translate
Easy Youtube Video Upload from Post Editor Check
And much more…
Note 1: Images are for demo purpose only and not included in the template package.
Note 2:This is not a WordPress Theme.
Note 3: The HTML files contained in the folder refer to the theme installation files.
Changelog
v2.0.5 [ 30/5/2023 ]

- Change the resolution of the featured image on multiple posts.
- Improve the width on the Layout Mode

v2.0.4 [ 23/1/2023 ]

- Improve the z-index of LightBox
- Fix the brightness of logo on dark mode in Classic Header

v2.0.3 [ 6/10/2022 ]

- Improve the height of Comments Form

v2.0.2 [ 20/5/2022 ]

- Add: Progress Bar to single posts

v2.0.0 [ 13/7/2021 ]

- Add: Sliding Sidebar
- Add: Day / Night mode option
- Add: Open menu in a new Window (target="_blank")
- Add: Recent Posts Option to Magazine Sliders and Blocks
- Add: 4 Columns Footer Layout
- Add: Wide option to 4 Slider types
- Add: Tags to the bottom of the Posts
- Improve: Mobile Menu (Now it's appear on Sliding Sidebar only in tablets and mobiles)
- Improve: Face Lifting to all Magazine Blocks
- Improve: Face Lifting to Social Counter widget

v1.7.5 [18/2/2021 ]

- Appear the Mega Menu as link on mobile
- Improve Body Classes with new Blogger method classes
- Add versions to stylesheets and js codes

v1.7.4 [11/11/2020 ]

- Images were not responsive on the static pages. (has been fixed)

v1.7.3 [26/10/2020 ]

- Improve overflow-x on Android and IOS Browsers.

v1.7.2 [20/7/2020 ]

- Optimize magazine blocks to display automatic third-party thumbnails

v1.7.1 [30/6/2020 ]

- Optimize Layout for new Blogger Update.
- Tips, how to use first image after new Blogger Update (Video Youtube)

v1.7.0 [8/5/2020 ]

- Fixed error in blocks with posts without images. (Add lazyload to no image)

v1.6.9 [12/4/2020 ]

- Improve translations text Related Posts

v1.6.8 [18/3/2020 ]

- Fixes .nav-item paddings on RTL
- Use adsense ads and banner ads inside the Magazine Builder section

v1.6.7 [ 2/2/2020 ]

- New DEMO Template (Classic)
- Fixed aligns in RTL on Main Menu
- Fixed top icons margins on RTL

v1.6.6 [ 4/1/2020 ]

- Upgrade Bootstrap Framework to v4.4.1

v1.6.5 [ 25/9/2019 ]

- Fixed. Problem with Header Image. Don't show when the size is s400.
- Fixed. Archive widget didn't work properly.
- Remove <div></div> from the official Lightbox.

v1.6.4 [ 3/9/2019 ]
- Fixed: Problem with Post Featured Image.
It didn't work properly when didn't use it in LightBox
v1.6.3 [ 17/6/2019 ]

- Fixed: Contact Form short code in static pages
- Add new option in slider short code for background color
- New DEMO Template (Gaming)

v1.6.2 [ 5/6/2019 ]

1. Fixed: Could not define featured image in posts with youtube videos.
2. Centered Search Form and Contact Form modals.
3. Add modal buttons on headline when don't have Social Buttons.
4. Fixed: Lazyload on Popular Posts and Featured Posts.
5. Fixed: Alt in widgets with images.

v1.6.1 [ 30/5/2019 ]

1. Fixed: Fonts and Full Page short code on Static Pages.
2. Fixed: Post Button Short Code. (doesn't show on focus)
3. Manual RTL Direction (Problem with iframes on Chrome in automatic RTL)
4. Fixed: Auto height in Post Youtube iframes.

v1.6.0 [ 24/5/2019 ]

1. Images lazyload feature.
2. Change the Featured Image (from auto to selected manual)
3. Many option separate from jQuery.
4. Change the dimensions of images in all blocks.
5. Tooltip Share buttons.
6. and much more...

v1.5.5 [ 2/5/2019 ]

- Remove Google+ Share Button
- Fixes max width of post images

v1.5.4 [ 1/4/2019 ]

- New DEMO template (NEWSPAPER)
- Fixed: Jump Link. (Some posts not showing after using many images or third party codes in Posts)
- Add Short Code Buttons to the Posts. (Create easy Bootstrap buttons using Short Code).
- Expanding Capabilities in Magazine Builder section. (You can change the widget background color easy for each magazine block)

v1.5.3 [ 8/3/2019 ]

- Upgrade Bootstrap from 4.1.3 to 4.3.1
- Fixed: Pointer on Navbar Toggler

v1.5.0 [ 1/2/2019 ]

- Change the number of grids on megamenu 4 to 5.
- Add 2 new Slider blocks.
- Add New template (Press News) based on Bootstrap Gradients.

v1.4.4 [ 19/1/2019 ]

- Add Hover Effects in Dropdown Menu
- Add new OPTION (Left Sidebar)
- Add new OPTION (Hide Blog fron the Homepage)
- Translate widget for Search Placeholder

v1.4.3 [ 13/1/2019 ]

- Fixed: Problem in mobile menu.
- Customize bootsrap buttons.

v1.4.0 [ 9/1/2019 ]
- Replace Simple Weather widget with Headline Menu.
(SimpleWeather has been unreliable with the Yahoo API for some time and there are no plans to update it.)

v1.3.3 [ 19/12/2018 ]
- Fixed: Problem in Follow by Email Widget
v1.3.2 [ 10/12/2018 ]
- 1 New Demo: Breaking News
v1.3.1 [ 29/11/2018 ]

- Fixed: Problem in HTML setup post. Sidebar left the position if we made settings in the 300 first characters.
- Add Hover Effects in Thumbnails. (Options for thumbnail background)
- Add Translation Widgets in Theme Options.
- 1 New Demo. Anartisis Fresh.
- Add Options for Logo and Menu in Mobile
- Add View All link in Magazine Blocks.

v1.2.8 [ 12/11/2018 ]
- Fixed: Problem in Comment Form. (Not showing on Android) 
- Fixed: Twitter Thumnails (Not showing on tweets)
v1.2.7 [ 11/11/2018 ]
- Update Documentation for Post Text Styling
- Fixes a problem with post snippets. (Not showing background) 
v1.2.6 [ 8/11/2018 ]
- Fixes z-index on Floating Header. (Not working properly at Lightbox.) 
- Fixes z-index on Widget Loader. 
v1.2.5 [ 5/11/2018 ]
- Fixes Post Heading. 
Credits: freepik.com, pexels.com, https://unsplash.com
[ad_2]
Source