Description
[ad_1]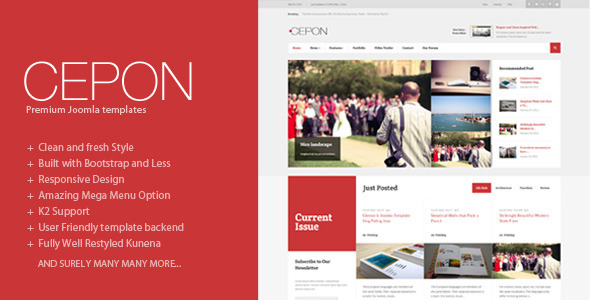 As a content rich magazine and news templates, Cepon has been designed to have a clear typographic structure, good legibility and accessibility for your user experince
Cepon is the perfect solution for you photographer, writer, graphic designer, a blogger, or you just want to share the things you love, this is the perfect templates for your News Sites, Blogs, Magazines, Online Portals, and any news-oriented website.
Check each page of the demo site, you will know Cepon is more than just a template. The backend is featured to enable you to customize your templates easily.
Complete Features
Responsive designs to smaller screen
Template based on T3 Framework.
Quicstart Included Joomla 3.2.x core.
7 Preset Color Themes variation.
Fully Support a powerful K2 Component.
Amazing Slideshow modules
Well CSS Structured
Multiple layout options, Easily configured from backend.
Option to enable CSS and JS compression.
ThemeMagic : T3 Framework is powerful by its easy customization with ThemeMagic. You can allow many parameters to be configured in the ThemeMagic.
Bootstrap & LESS: with LESS CSS that making CSS development more powerfull and intuitive.
MegaMenu : This is the best feature in T3 which has a powerful Menu system – Mega menu
All Installed Extensions (Components, Modules, Plugin) Included
Impressive, Lightweight, modern and very fast-loading design.
Fully compatible for all major browser
Well restyled Popular Joomla Forum Kunena
Well Documented
Pop up Video Module
Awesome tab modules
Changelog
Version 1.17.6 (05 July 2015)

  Update Joomla and the extensions to the latest version
  Add 1 new style as new features
  Fully Optimize themeMagic Features
  Minor change on navbar.less, style.less, modules.less, variables.less, navigation.less
  Minor change on themeMagic.xml

Version 1.17.5 (15 February 2015)

 Update the extensions the latest version
 Add 2 new layout and theme option
 Fix width issue on using themeMagic
 Fix equalheight
 
Version 1.17.4 (20 September 2014)

 Include Quickstart for joomla 2.5
 Update the extensions the latest version
 Update both quickstart to the latest version Joomla 3.3.4 and 2.5.25
 Fix modal issue
 Fix update dates issue

Version 1.17.3 (10 June 2014)

  Update the extensions the latest version
  Fix Tabs GK5 issue
  Minor updates on extensions.css
  Minor update on footer.php

Version 1.17.2 (23 May 2014)

  Add features : Sticky main menu
  Fix portrait view on ipad
  Minor updates on style.less, navbar.less, and script.js

Version 1.17.1 (14 May 2014)

  Initial release

Forum Support
If you have any problems about this template,
please feel free to post it in the forum, I'll be glad to help
To view and write the posts on this forum you need an account
To have a forum id, please PM me at this page: http://themeforest.net/user/maskeenan/
In the message, please enter text: "Dhe remma Cong"
After verifying your purchase, I'll send you back an email with your username and temporary password.
Many Thanks to :
Joomla Extentions
T3 Framework
K2 Component
News Show Pro GK5
Tabs GK5
Akeeba Backup
AcyMailing Starter Component
SP Tweet
BT Google Map
[ad_2]
Source