Description
[ad_1]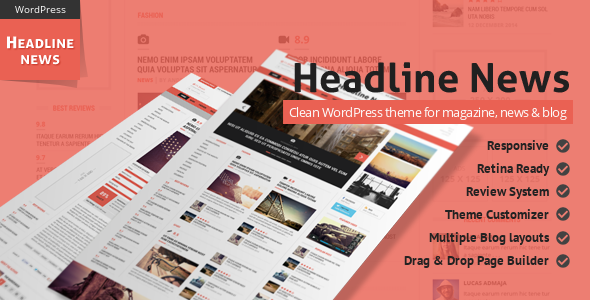 Headline News is a WordPress theme with a clean design and modern look. It is well suited for magazine, news, editorial, blog, photography or review site.
DOCUMENTATION: Headline News Theme Documentation
Responsive & Retina ready
This theme has a responsive layout that adapts from normal desktop screen to mobile devices (tablets and mobile phones). It also comes with retina ready images and graphics/icons, so it is ready for all devices with high resolution screens.
Theme Customizer
Customize this theme with WordPress Customizer. Upload logo, change colors, modify all settings and see the preview in real-time before you save.
Content Builder
With drag and drop content builder you can add multiple content blocks with different styles and build a unique page easily.
Multiple Blog Layouts
Choose from different blog layouts: Small Image, Large Image or Grid layout.
Custom Widgets
In addition to the built-in WordPress widgets, this theme comes with custom widgets: Banner (Single), Banner (Multiple), Comments, Contact, Facebook, Flickr, Posts, Reviews, Social, Subpages, Twitter, Video.
Color Schemes
Choose from predefined colors or use the color picker to change color elements (links, menu, buttons, etc).
Sidebar Manager
Create multiple sidebars from the Theme Options Panel and assign a different sidebar to every single page/post. You can also set sidebar position on each page/post: right sidebar, left sidebar, full width (no sidebar), or dual sidebar.
Review System
Review system allows you to add ratings and reviews to your posts. Review can be enabled/disabled on each post. You can add multiple ratings with custom criteria, and overall rating will be calculated automatically. Ratings can be set in different styles: star, number or percent.
Boxed and Stretched Layout
Choose stretched layout or boxed layout (you will need boxed layout if you want to use background image or color). The layout style will be applied throughout the entire site.
Other Features:
Custom Background
Flex Slider for featured posts
Multi-Level Dropdown Menu (via WP 3.0+ Menus)
Post Tumbnails with built-in WordPress function
Logo uploader for main site and login page
Favicon uploader
Built-in Pagination
Built-in Author Box
Built-in Related Posts
Show/hide elements in blog: post format icon, thumbnail, rating, category, date, comments number, excerpt, author
Threaded comments with gravatar support
Useful Shortcodes such as tabs, accordion, message boxes, layout columns, buttons and more
(Shortcodes generator integrated into the content editor)
Ready for translation (.po and .mo files included)
Supports child themes (child theme included)
Child themes are the recommended way of making modifications to a theme
Theme update notifier (optional)
When a new update is available, you'll get notified from your WordPress dashboard
Step-by-step guide and detailed documentation for theme installation and configuration
XML sample data for quick setup
Changelog
1.3 – July 1, 2016
Added title tag support
Added sticky posts support for featured posts
Added options for single post: show comments number, show prev/next links
Removed update notifier
Fixed google structured data errors and warnings
Fixed content block CSS bug
Fixed 'Cannot redeclare class' error in Twitter Widget
Fixed 'The Called Constructor Method For WP_Widget Is Deprecated' notice in WP 4.3
Updated FitVids to version 1.4.0
Updated FlexSlider to version 2.6.1
Updated jQuery Sticky to version 1.0.4
Updated TGMPA to version 2.6.1
1.2 – June 29, 2015
Updated PrettyPhoto to version 3.1.6 (XSS Fix)
Updated Twitter Bootstrap to version 3.3.5
Updated FlexSlider to version 2.5.0
Updated jQuery Sticky to version 1.0.2
Updated TGMPA to version 2.5.0
Fixed notice message in review detail
Fixed slider in mobile view
Fixed related posts clearing
Fixed date internationalization in header
1.1 – April 19, 2015
Added more social icons
Added featured image caption
Added margin for disqus comment system
Added a small UI improvement in review meta box
Added meta separator for content block 2
Added a feature to override meta box data from child theme
Added contact form spam protection field name constant
Removed maximum scale in viewport
Fixed recent posts bug in homepage
Fixed slider bug
Fixed 'undefined index' warning message in post edit screen
Fixed page content margin in blog template
Fixed retina image sizes bug
Fixed search form bug
Fixed contact form widget error message color
Fixed sticky menu bug when using boxed layout
Fixed notifier bug
Fixed some translations
Fixed custom color palette
Fixed 'too few arguments' warning message in comments
Fixed structured data errors
Fixed facebook widget bug
Fixed dual sidebar blog grid layout clearing
Fixed main menu bug
Fixed default value for footer and featured posts
Updated Twitter Bootstrap to version 3.3.4
Updated Fontawesome to version 4.3.0
Updated Retinajs to version 1.3.0
Updated FitVids to version 1.1
Updated FlexSlider to version 2.4.0
Updated TGM Plugin Activation to version 2.4.0
[ad_2]
Source