[ad_1]
While Vrajesh Hirjee is largely known for his roles in some cult movies like 'Rehna Hai Terre Dil Mein' and the 'Golmaal' franchise among many others, there's a lot more to him! As one speaks to Vrajesh, what comes across is his intelligence, deeper understanding of performing arts and how articulate he is. However, what remains unchanged is his ability to make you smile or laugh, which translates even off-screen. His funny one-liners and deadpan humour even amidst an interview is hard to miss! The actor who's been in the industry for over two decades is a part of an audio series, 'Marvel's Wastelanders: Star-Lord' on Audible which also has Saif Ali Khan. While sharing insights about this series, Vrajesh also gets nostalgic about his journey, confesses he did feel like he was 'boxed' but had his own reasons for the choices he made. All this and more in this conversation…
You started your film career in 1998. It's been around 25 years. Such a long journey!
And incidentally, that was the name of my debut film, 'Such A Long Journey'. It had Naseeruddin Shah and Om Puri. I had just one scene with them. To think of it, what do I even say? I can say, I've survived. It was fun, it still is. Every single day is a new day, every single challenge is a new challenge.
Or do you purposely pick up challenges? For instance, playing a character in Marvel's Wastelanders: Star-Lord and just expressing through your voice!
When I came to Marvel's Wastelanders: Star-Lord, I didn't think this was going to be easy. The joy here was to reunite with Saif Sahab (Saif Ali Khan) after 'Rehna Hai Terre Dil Mein' for the first time actually. When you have an actor like Saif, you have to constantly be on your toes and have your guard up because he's brilliant. The director Mantra Mugdh is himself another level of insane. We had to sweat it out for sure. It was a lot of hard work. Also, I've known Mantra for a while now, so he exactly knows which buttons to press. You have to keep pushing yourself. One is a performer in that sense with podcasts, you're involved with sports, radio and so much more. You need to keep moving forward as a performer. You take everything that life offers you and one gets offers so much because I don't have that vibe that, 'Oh I'm an actor, that's all I do. Please bring me my latte before I start work' (Laughs).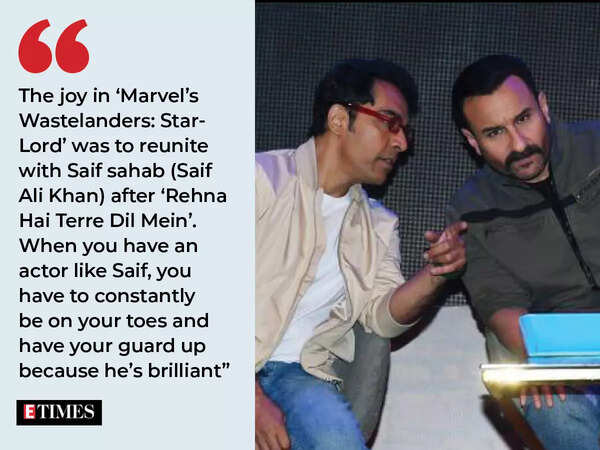 Then what is it that you feel and think like?
I still come across pictures, scenes and memes from some of my old films and memorable characters, which go viral from time to time. I interact with people who make them and comment and it's lovely. But I haven't stepped in nostalgia or melancholy, so to speak. Something like a Star Lord immediately brings in a new challenge, because I have an opportunity to show a side of me to my listeners which they haven't been exposed to before. And that's how I look at it. One thing at a time. Every time I go on stage, the heart beats like a drum. But by every performance you've done a decent job, then you sleep well at night. Everyday, every single line, word, is an exam. You've been hired because it's a fact that you can try. What are you being paid for otherwise? And if it isn't, then what's the point?
If I may say, you've largely been known for your comic timing and comedy as a genre. How do you look at the way this genre has evolved over the years in Hindi cinema? Of course, there are also other art forms like stand-up comedy which are evolving…
When I started out, the comedy which I was performing were roles. I was acting. It was funny because it's the script but I was just acting. Then, stand-up is so old. Before Johnny Lever, there was Johnny Whiskey. And now, it's come down to reels and it's all so good. I learn so much from it. But as far as Hindi cinema is concerned, I'll give you an example.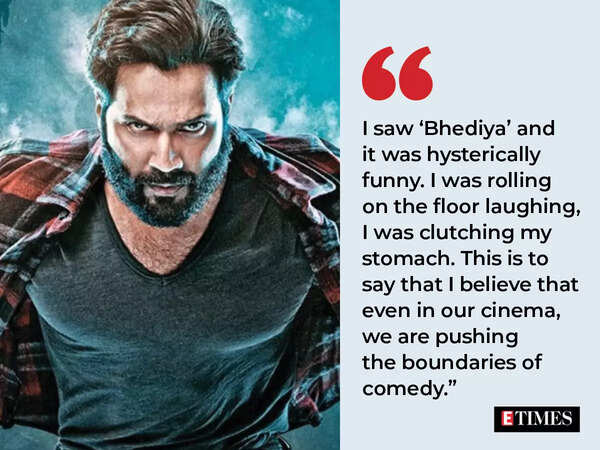 I saw 'Bhediya' and it was hysterically funny. I was rolling on the floor laughing, I was clutching my stomach. There's a scene where Varun turns into a werewolf, he runs out of the window and his two friends follow him in this car. They look out of the window and start howling. One guy has a fight with the other guy that '
tu kitna besura hai
'. So he says, '
Main Bhediye ki aawaaz bhi sur mein nikaalu kya
' and they start fighting. One of the guys' elbow hits the radio and Himesh Reshammiya's '
Tera Tera Tera
Surooor
' starts playing. It's cut to the werewolf. They cut to Himesh Reshammiya's '
ooooh
' and they cut to the werewolf who starts howling. Then, there is this werewolf with his torn boxer shorts. He has changed back into a human being, he is walking and he is hiding his nakedness and a song starts, '
Chaddi pehen ke phool khilaa hai
'. It's brilliant! This is to say that, I believe that even in our cinema, we are pushing the boundaries of comedy. We are testing things with every film. We are wonderfully placed as far as humour goes, in our performing arts. Even in Star Lord, especially the humour is understated, and thankfully, most people have got it. At one point in Star Lord, Kohra, played by Sushant Divgikar, asks Rocket Raccoon (which is my character) that, '
tum mujhe Old Man Star Lord ki kahaani bataaoge
?' and all he said was '
Nahin
'. That's a finality to that. There is subtlety and humour to the way it's said. My friends had come to hear this and after hearing this moment, they said, '
phir se suna
'.
You clearly have a knack for details. Does that come from the fact that you also write?
Maybe. I write because I've been acting for a while now and one picks up, one learns. You just sometimes take a moment, stand by and realise, 'one second, what just happened? What did people like? What did they hold on to?' I've never really talked about it. Maybe I should ask my therapist (Laughs). I'm just joking but it reminds me to put out a message that if you need therapy, just go and get it. It is severely under-looked in our social set-up. We still see it as a bit of the slur that '
pagal hai kya
', which is not right. Coming back to what you asked, the detail is because maybe I write or maybe that's how I read. I do read it that way, so it's interesting that you mention it.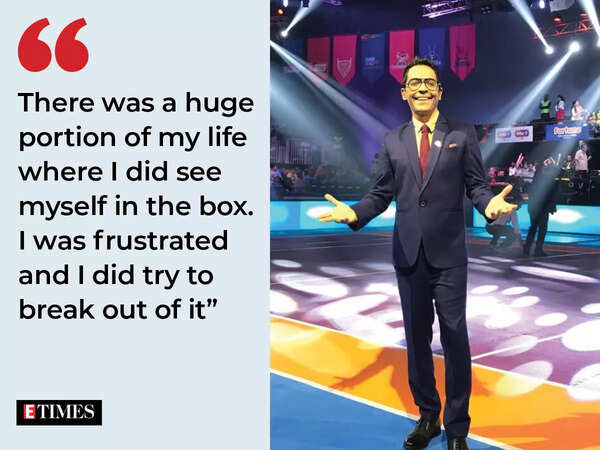 Sometimes I do write, and get into details and sometimes some directors may be getting irritated by it. I spend hours on some things sometimes. The 'nahin' scene which I mentioned, while I was recording it, I took so much time on getting it right that the rest of the recordists and assistants went mad. Someone was trying to melt into a wall, someone dropped coffee on themselves, someone went to Panvel and came back, Mantra was sitting with a glassy look in his eyes. But I like doing it, not when there's no time. I like detail, why not detail? Just because it's comedy or what?
All through your career, have you felt like you got the kind of roles which you wanted?
I'll give you a background! I studied commerce while I was studying law. My first job was with Indian Express, second job was with a financial consultancy. Then I wrote copies for an advertising agency and then I started acting. Initially I started acting so that my family survives the lack of financial resources we were facing at that time. I then realised let's make some money. Let's see what that means. I never made acting choices in the initial point in my career thinking that 'I'm an actor'. I did every kind of role, every size of film. Now, of course, I do think through some of my choices but that is because of the hindsight of some financial stability. I work for very little money sometimes, but that's because I can afford to do it. Right now my stomach is full, and I can keep it full for some time but right now what I'm doing is to keep it a little fuller somewhere down the road. Earlier, my acting choices were primarily based on financial considerations than artistic merit because that's where I came from. Today if someone tells me on social media, that you're just being cash grabby, I resent it because I'm like, 'What do you know of my life?'.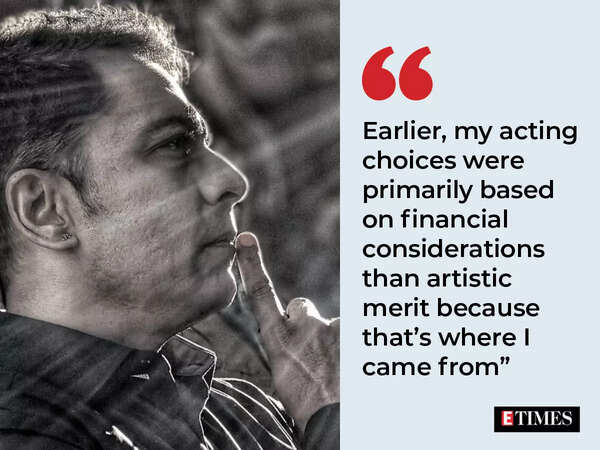 Did you ever feel you were slotted into a genre or boxed? Are you content now?
There was a huge portion of my life where I did see myself in the box. I was frustrated and I did try to break out of it, despite the fact that my debut was an intense role in an intense film. But fine, I was put in a box. But, am I happy with my choices? Extremely! Am I content? Not at all. Because the day I'm content, I'm done. What's the point then? As a Chartered Accountant, your profit and loss account tallies, you can be content. But as a performer how can you be content? If Naseeruddin Shah were to say, 'What do I do next?' I understand. But for me, it's just the beginning. There's just so much to do. I won't let myself be content but happy I'll always be. I am always happy. Thankfully, I'm also at a place now where I don't have to make choices completely out of financial considerations!
Tell us about your upcoming projects.

There's a web series called 'Inspector Girpade' on Audible. There's a Yash Raj film which is again on OTT. I'm on stage at the Prithvi on August 13-14 with a play called 'One On One part 2'. Then in September, I'm on stage with an older play called 'Chinese Coffee'. I'm playing the role which Al Pachino played in the States. And then my own production play called 'Guards At The Taj' is on the stage on September 15. There's the Kabaddi league coming up which I host!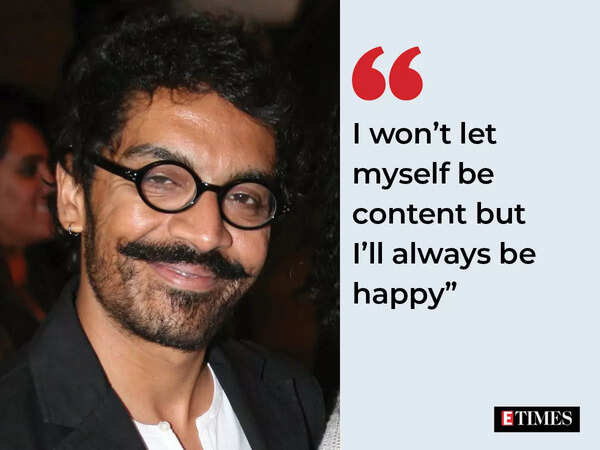 So, there's a lot on the table indeed!
I should be counting my blessings except that my son is having a hard time bringing me to maturity (Laughs).


[ad_2]
Source link