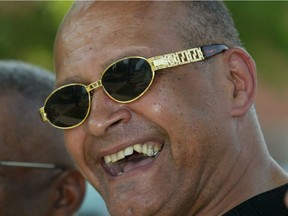 Article content
Boxer, broadcaster, convict and community servant.
Article content
Windsor native Charles 'Spider' Jones, who transcended a life of crime to become a celebrated youth advocate and Black broadcasting pioneer, has received the prestigious Harry Jerome Lifetime Achievement Award.
"It's a great feeling to be honoured and appreciated for something you like doing," said Jones, 80, who was born and raised in Windsor.
"That's like icing on the cake. I love cake anyhow, but when you put the icing on it, it's so much better."
The annual Harry Jerome Awards, from Toronto's Black Business and Professional Association, celebrate achievement in Canada's Black community with categories ranging from athletics to the health sector.
Jones first gained notoriety as the first Black man to host a nationwide radio talk show in Canada, on Toronto's The Fan 590.
Article content
"I used to tell them every night, we're going coast-to-coast like buttered toasted with the lovable one," said Jones, who moved to Toronto in his 20s. "I kept that sort of '50s, '60s style. People loved it. It was so much fun. I was living my dream."
That dream took shape at age 10, when he saw Alan Freed at Detroit's Fox Theatre.
"He was the No. 1 disc jockey in North America back then," said Jones. "I loved his flamboyant presentation. I said, 'Wow, I want to be like him.'
It didn't come easy. Jones, who struggled with a learning disability, got kicked out of Prince Edward Elementary several times. He dropped out of Lowe Tech at age 15.
"I pretty much gave up on a lot of things for a while," said Jones, also an Order of Ontario recipient. "After I got married, my wife said you've got to go back to school. She said you want to be a writer, you want to be a journalist, you want to be in radio.
Article content
"By then, the only thing I'd ever written was a bad cheque, and the only sentence I ever completed was two years less a day."
That's only partly a joke. Jones did serve time — twice for break and enter, and once for assault. Convinced he was too "dumb" for academics, he turned to the streets.
"Hustling and trying to find my way."
Jones was released from Millbrook Reformatory for the last time at age 26. His friend, boxer George Chuvalo, gave him a place to stay at Sully's Boxing Gym in Toronto.
That's where Jones, himself a three-time Golden Gloves champ, met Muhammad Ali. He helped train Ali for a fight against Chuvalo, and became lifelong friends with the legend.
Windsor native Spider Jones awarded the Order of Ontario

Freeds' White, Schwabs among honourees at business awards
In his early 30s, Jones finally returned to school to study broadcasting. His celebrity as a talk show host led to requests for speaking engagements, which sparked one of his biggest passions.
In 2014, he opened Spider's Web Youth Empowerment Centre in Toronto. It's sponsored by Believe to Achieve, the non-profit youth advocacy organization he started with his wife, Jackie.
After a lifetime of motivating others, Jones said he was "inspired" this week to see his achievements recognized.
"That's something I didn't expect," said Jones. "Other people have recognized what you're doing, so you must be doing something right."
twilhelm@postmedia.com